It's common for people to ask Realtors about "the market", so you know I get this question often. If you read my entire article, perhaps you'll agree with my bold assertion that there is nowhere to go but up….for now.  Always hand-written with stats direct from our local MLS.
Q2 2017 Summary
:
Sales Volume Solid: Up 38% from Q1. ~equal to Q2 2017
Inventory Still Dropping!: Down 20% from Q2 2016, Up 12% from Q1 2017
Loan Rates Stable: Started Q2 at 4.15%,  ended Q2 at 4.07%
Home Values Up: Median sales price up ~9% over Q2 2016
Govt./Policy Changes: Fed Funds Rate Up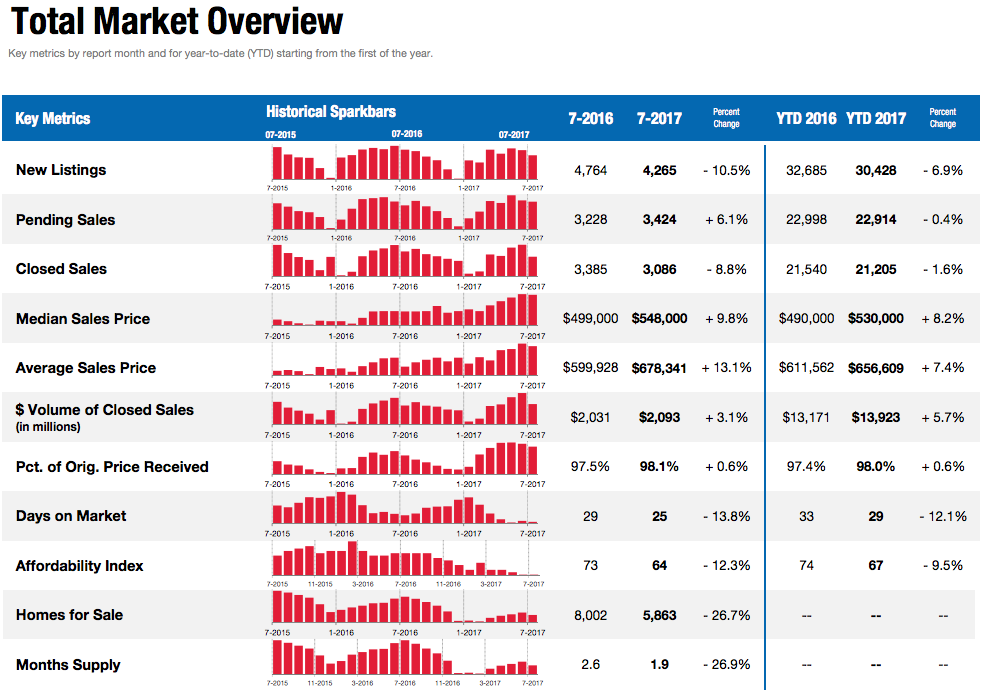 The Above image is a visual summary of my statistics reference from our local San Diego Association of Realtors.
Click here to View Full Stats from San Diego Association of Realtors
2017 Q2 – The Details
Sales Volume:
Sales volume is typically strong in the spring, so it's no surprise we saw an increase over Q1, which started the year with our lowest actual inventory in over 12 years. Considering inventory levels in Q2 were about 20% less than Q2 2016, it's a big deal that sales volume in Q2 2017 was virtually the same as Q2 2016. It is possible that rate activity has pushed demand (having peaked and scared folks end of 2016 and then slowly dropping all year), but macro-economics such as a growing economy & shrinking unemployment must also be given their due credit. Regardless the cause, our sales volume is steady, despite less inventory to choose from.
Inventory:
As soon as I thought inventory couldn't get any lower, it did. We saw a typical seasonal upswing in Q1, but it was muted as sales outpaced new listings. New listings were down 6.8% at the end of Q2 2017 compared to Q2 2016. We ended Q2 2017 with 20% less inventory than in 2016. Inventory has been dropping consistently for about 5 years now. There is a lack of overall housing availability whether buying or renting and this lack of inventory is what will continue to push home values (and rents) up.  Our rolling monthly average for inventory is down about 14% for detached and 22% for Attached.  Inventory is always highest at the end of Q2, but we are currently lower than I've seen in over 12 years at this time.  So while our pool of buyers that can/are willing to afford our rising home prices is shrinking, the supply of homes for sale (or for rent) for these folks is shrinking faster.
Loan Rates:
Rates started the year around 4.18% (MND average) after a big 1% hike the last couple months of 2016. So it's no big surprise that rates have slowly stabilized and come down a bit since then. Q1 and Q2 were both relatively stable with a clear, but slight downward trend. All that said, most pundits (MND Daily and National Association of Realtors) predicted us to end the year around 4.65-4.75%. Thus far they are wrong, perhaps due to geo-political instability, but if we have a full 1% rate hike in the 4th quarter this year like we did last, they won't be. It's been a common trend in the last few years for rates to go up in Q4, so I'm going to run with that for now. But don't be too surprised if Korea sets off a couple more weapons tests in Q4 to keep rates low…
Home loan rate charts:
Long Term Rate Chart: 1971 – 2017                               Short Term Rate Chart: 2017 weekly
Govt / Policy Changes:
The fed raised the Federal Funds Rate from 0.5% to 0.75% in December. March 15, 2017, they raised it to 1.0 and then again on Jun 14 to 1.25. I've read that they expect to go to 1.5 in December, 2.0 in 2018 and 3.0 in 2019. At a minimum, it's clear they intend to work the rate back up again if things go as expected. While the fed rate is not the same as home loan rates, they do influence each other. People on adjustable rate loans have seen a steady increase in their monthly rate on those loans – luckily, lenders aren't handing those out like candy to children on Halloween anymore! Typically, you'll see adjustable rates on smaller loans, such as second liens and equity lines of credit.
I'm still waiting to see a notable impact from the new administration. Trump promised to deregulate the lending industry and get rid of Dodd-Frank, but thus far, we haven't seen any major changes. Most minor changes have been a mixed bag.
Home Values:
Price is a balance between supply and demand. Supply has gone down and sales have not. Thus, we have seen a pretty consistent rise in home values all year with the end of Q2 2017 about 9% higher than Q2 of 2016. Current detached median value is $615k and Attached/condo median value is $410k. The rolling 12-month average is up about 7%. Seasonally, it's common for median prices to peak around now, beginning of Q3, but last year we saw a big push in October and that was the 2016 peak.
What does the future hold? My predictions are below…
What's next?:
While it's not that hard to predict the short-term if you have the correct statistics at hand, mid & long-term economic trends are quite elusive and usually prove me wrong. That said….
We started this year at the lowest inventory in over 12 years. Our extremely low inventory, good home loan rates and solid economy are all pushing sales demand, despite the lowest affordability in about 10 years. It's clear that demand outpaced supply and prices rose quite a bit in Q2. It's typical to see a pull back after such a strong quarter and as I write this, August feels really slow. But with so few properties for sale, most sellers are going to stick to their guns and expect more than the last comparable sale, or just wait til the spring and re-list. While some buyers may be wary of "paying more", their very few options are going to be picked up by a more motivated buyer if they hesitate much longer. Like last year, I think we'll get one more strong push at the end of Q3 to nudge median sales higher than they ended Q2 with. And while I expect sales volume to drop at the end of 2017 along with inventory (which is the seasonal norm), I don't expect prices to drop. I expect them to stay mostly level due to the complete lack of inventory. I also will predict a .25-.5 rise in home loan rates by year's end, most likely realized in Q4. The geo-political landscape is pushing investors to more safe/secure bond markets right now, but I'm hopeful the world will stabilize and rates will rise back up a bit.
Thus, I expect a slightly upward market with a 0-2% rise in home values by end of year.  If that happens, I expect 2018 to be similar to this year, but let's save that prediction for my next update.
Just as a test, if you got this far and read my entire article, please let me know. You've got a free lunch coming to you!
Thank you for reading – I appreciate your time as well as your comments. And thank you for your referrals – they are the foundation of my business at over 90% the last 4 years.
Adam Pascu
Broker / Owner
73 Degrees Realty
858-761-1707
ps. feel free to check out my San Diego Green Homes site if you have a passion for living green/sustainably and contact me (cell: 858-761-1707) for a free consult regarding how to green your home.