Just off the presses….San Diego hits a new high for detached median home values at $1,000,000!  Here's the stats from the 2nd quarter of 2023 for San Diego real estate, along with predictions for the rest of year.   Always hand-written with stats direct from our local MLS.  
2023 Q2 Summary
Sales Volume Down: Q2 of 2023 had  30% LESS closed sales than Q2 2022
Inventory Low: Up ~38% from end of Q1 2023. Down ~25% from end of Q2 2022
Loan Rates Up: Started Q2 at 6.44%. Ended Q2 2023 at 7.02%
Home Values Up!: Median price went from $825k to $865k in Q2. Up 1.8% from Q2 2022
Govt./Policy Changes: Fed Fund Rate Increased .25 in July
Rental Rates Up: Rents are up ~3% year to date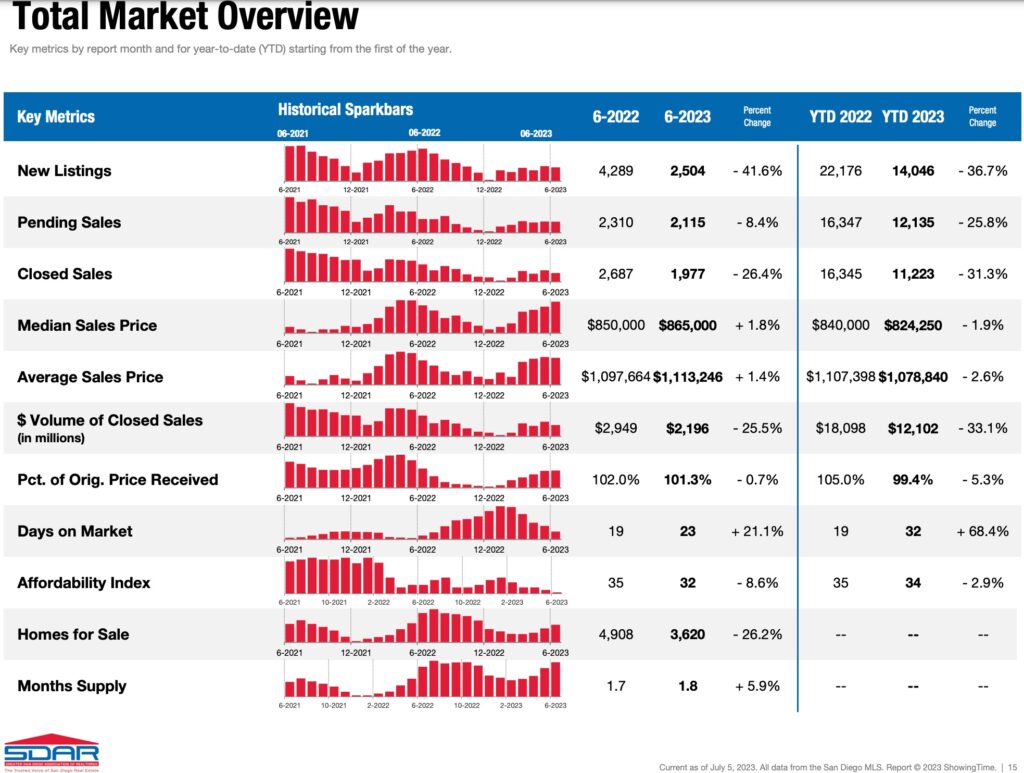 The Above image is a visual summary of my statistics reference from our local San Diego Association of Realtors.
Click here to View Full Stats from San Diego Association of Realtors
2023 Q2 – The Details
Sales Volume:
Sales Volume has been sliding for almost 2 years now. The current sales volume is about 30% lower than the previous year, Q2 2022, and about 44% lower than Q2 2021. The obvious reasons are higher home loan rates + higher prices = lower affordability. Our affordability index hit 32, which is the lowest I can remember ever seeing it.
Inventory:
Inventory has been quite low for the last 2 years. Inventory started trending up last summer which also brought a drop in prices, but as quickly as the inventory built up it was gone by the end of 2022. Q1 of this year saw really low inventory which fueled another hot spring for home values. And although inventory has been steadily rising over Q2, it is not rising as quickly as it did in 2022.
New listings are down about 38% the first 6 months of 2023 over 2022. Clearly the decrease in new listings is keeping inventory low. People that don't need to sell, don't. Rental rates have continued to shoot up with home values, which means homeowners (with super low rate loans) are less likely to sell if they don't have to – I believe high rental rates are contributing to the lack of new listings as would-be-sellers have become landlords.
Loan Rates:
Home loan rates have been edging up slowly all quarter.  The 30-year fixed MND rate average started the quarter at 6.44% and kept rising before ending Q2 at just over 7%.   When will rates come back down? Unfortunately, I believe we have to see a recession and a notable hit to the job market first, which will also send home values dropping, too.
Home loan rate charts:
Long Term Rate Chart: 1971 – 2023                               Short Term Rate Chart: 2023 Q2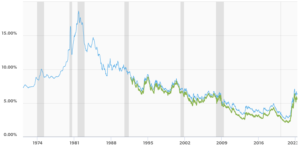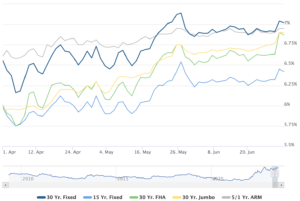 Govt / Policy Changes:
Fighting inflation has been the Feds main goal the last 2 years and it appears inflation is finally coming down. The last 2 rate changes were a .25 increase on May 3 and another .25 recently at the July Fed meeting.  After raising the federal funds rate many times in the last 2 years, it sounds like they are at the end, but The Fed has signaled that we could see another small increase this year. The US Labor Department reported in July that the consumer price index rose 3% on an annual basis in June, down from a 4% annualized gain in May. On a monthly basis, the CPI gained 0.2%.
If this trend of inflation coming down continues, it would be a surprise if the Fed did more than another .25 point increase, but if the economy keeps pushing forward and inflation continues to roar, you can expect more short-term woes in the lending market.
Home Values:
Home Values have been on a serious roller coaster the last 2 years. We have seen major seasonal movement, but not a lot of year-over-year differences.  In June, however, we just hit $1,000,000 as the median price for a detached home in San Diego.  We hit this mark in April 2022 as well, but Median values dropped a solid 15% before coming right back up to $1,000,000 last month.
Rental Rates:
Rental rates have been going up, along with home values, for almost 10 years. Here are a couple charts that, taken together, go back to 2005.  In short, median rental rates have gone up 35% in 3 years and 55% in 10 years.  But these numbers seem low to me. In my neighborhood, I'm pretty sure rents have gone up more like 75-90% in the last 10 years.
For example, I rented a property near me in Bay Ho in December for $4200. The tenants had to move and I'm re-renting it easily for $4450 – that's more than a 5% gain in 8 months on this specific property.
Median Rent SD: 2019-Present                                          Median Rents SD, CA, USA: 2005-2019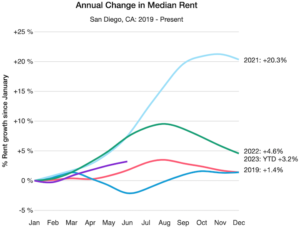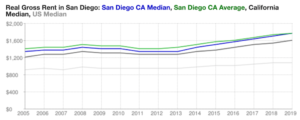 What does the future hold? My theories & predictions are below…
Of course, these are just predictions….that said, I think we will see a decent seasonally normal end to the year, which means that inventory and prices will start to sink a bit soon. I am predicting an approximate 4-5% drop in home values the 2nd half of the year.  This is predicated on rates staying relatively stable, but of course any major movement in rates will effect prices, too.
I've read what the big companies are predicting on rates as well as spoken to my trusty sources and they are all over the place. Needless to say, if there is any notable/sustained rate movement in either direction (let's say over .75%), then the market will move with that rate adjustment. I'm expecting rates to stay stable in the short-term.
Rents are also likely peaking, as they do about this time of year.  I expect rents will fizzle a bit towards the end of the year finishing with a very modest yearly gain around 2-3%, similar to last year.
Want a free lunch?
If you got this far and read my entire article, please let me know what you think with an email/text/call. You've got a free lunch coming to you!  Or, we can share a glass of wine  🙂
And thank you for your referrals – they are the foundation of my business at over 90% the last 5 years.
Adam Pascu
Broker / Owner
73 Degrees Realty
858-761-1707
ps. feel free to check out my San Diego Green Homes site if you have a passion for living green/sustainably and contact me (cell: 858-761-1707) for a free consult regarding how to green your home.