If you thought home values were going to drop this year, thus far, you'd be very wrong….  Here's the stats from the 1st quarter of 2023 for San Diego real estate, along with predictions for the rest of year.   Always hand-written with stats direct from our local MLS.  
2023 Q1 Summary
Sales Volume Down: Q1 of 2023 had ~ 33% LESS closed sales than Q1 2022
Inventory Down: Down ~28% from end of 2022. Down ~8% from end of Q1 2022
Loan Rates Steady: Started 2023 at 6.45%. Ended Q1 2023 at 6.60%
Home Values Up!: Median price went from $765k to $825k in Q1. Down ~3% from Q1 2022
Govt./Policy Changes: Fed Fund Rate Increases Tapering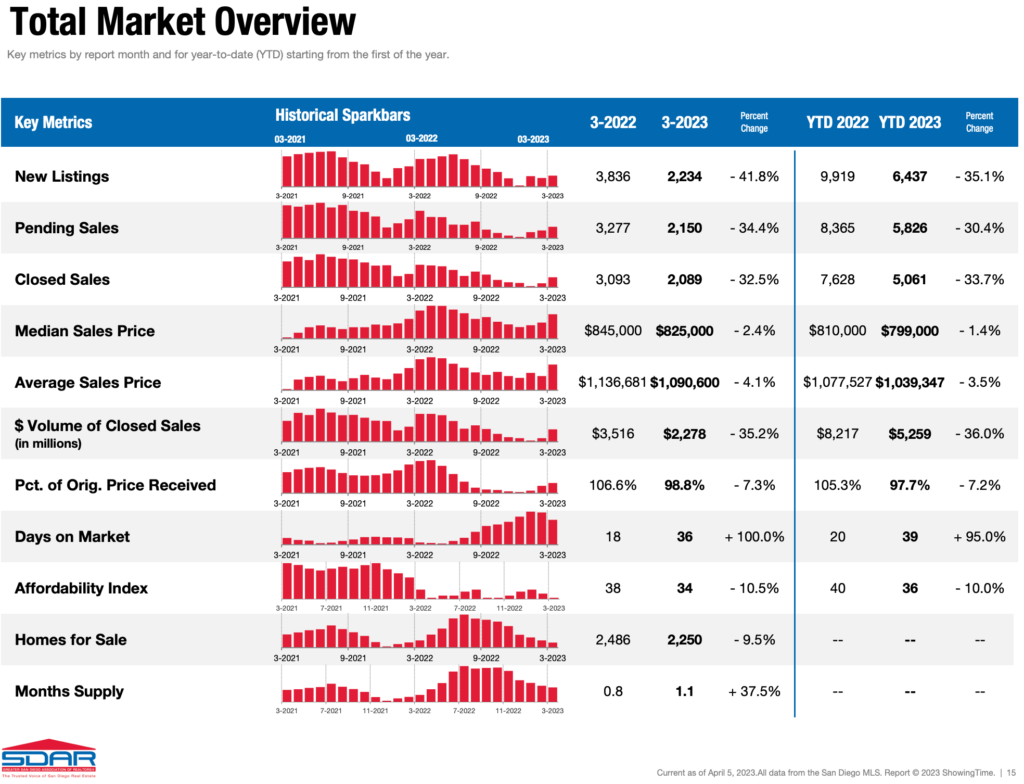 The Above image is a visual summary of my statistics reference from our local San Diego Association of Realtors.
Click here to View Full Stats from San Diego Association of Realtors
2023 Q1 – The Details
Sales Volume:
Sales Volume has been sliding down ever since rates started increasing about a year ago. The current sales volume is about 33% lower than the previous year, Q1 2022. Contributing factors include higher home loan rates, lower affordability, and low inventory.
Inventory:
Inventory was trending down hard in Q4 of 2022 and we started the year with minimal listings. But more surprising was that we continued to lose inventory all of the first quarter 2023 and ended March with less listings than we started the year with, which is not normal.  Not only were we losing inventory, but the trend was counter to seasonal norms.   New listings were down about 35% in Q1 2023 over Q1 2022.
Loan Rates:
Home loan rates have been bouncing around but staying relatively level overall.  The 30-year fixed MND rate average started the year at 6.45% and then went down and up and down again before ending Q1 at 6.60%.
Home loan rate charts:
Long Term Rate Chart: 1971 – 2023                               Short Term Rate Chart: 2023 Q1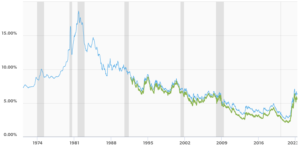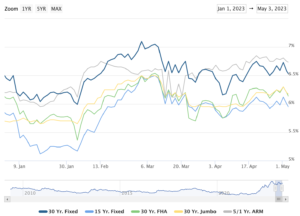 Govt / Policy Changes:
Fighting inflation by raising the federal funds rate has been the Fed's battle cry for a solid year. But they began tapering the rate increases this year and may have hit the current peak after going up 1/2 point in Q1 and another 1/4 point in April.
The feds last meeting indicated they would be holding rates steady for the rest of 2023. We shall see…
Home Values:
Home Values were dying at the end of last year. But with inventory dropping steadily and buyer demand back, 2023 quickly took off.  We shot up 7-15% in various areas across the county and were close to keeping pace with the breakneck spring of last year.
What does the future hold? My theories & predictions are below…
Of course, these are just predictions….that said, I think we will see a decent seasonally normal end to the spring selling season that will realize a 10-15% equity gain on median prices.  Then, if rates stay relatively stable, I expect we will lose 2-4% by the end of the year. If rates drop, we will likely stay relatively stable to the end.
I've read what the big companies are predicting on rates as well as spoken to my trusty sources and they are all over the place. Needless to say, if there is any notable/sustained rate movement in either direction (let's say over .75%), then the market will move with that rate adjustment. I'm expecting rates to stay stable in the short-term and perhaps drop some by the end of the year.
Want a free lunch?
If you got this far and read my entire article, or you got the Talking Heads reference in my title, please let me know what you think with an email/text/call. You've got a free lunch coming to you!  Or, we can share a glass of wine  🙂
And thank you for your referrals – they are the foundation of my business at over 90% the last 5 years.
Adam Pascu
Broker / Owner
73 Degrees Realty
858-761-1707
ps. feel free to check out my San Diego Green Homes site if you have a passion for living green/sustainably and contact me (cell: 858-761-1707) for a free consult regarding how to green your home.