2022 was like that old rickety wood roller coaster at your favorite amusement park. We ratcheted up at an uncomfortably steep climb to begin the year, and then it was a bumpy down hill ride the rest of the year. Home values basically went up 20% and then right back down to where they started.  Here's the stats from the 4th quarter of 2022 and the yearly review for San Diego real estate, along with predictions for 2023.   Always hand-written with stats direct from our local MLS.  
2022 Q4 Year End Summary
Sales Volume Down: 2022 saw ~ 28% LESS closed sales than 2021 in total
Inventory Up: Up ~50% from end of 2021. Down 40% during Q4 2022
Loan Rates HIGH: Started 2022 at 3.29%. Started Q4 at 6.69%, ended 2022 at 6.54%
Home Values Up & Down: Median Sales price went from $765k to $875k and back to $765k.
Govt./Policy Changes: Fed Fund Rate Increases effect Home Loan Rates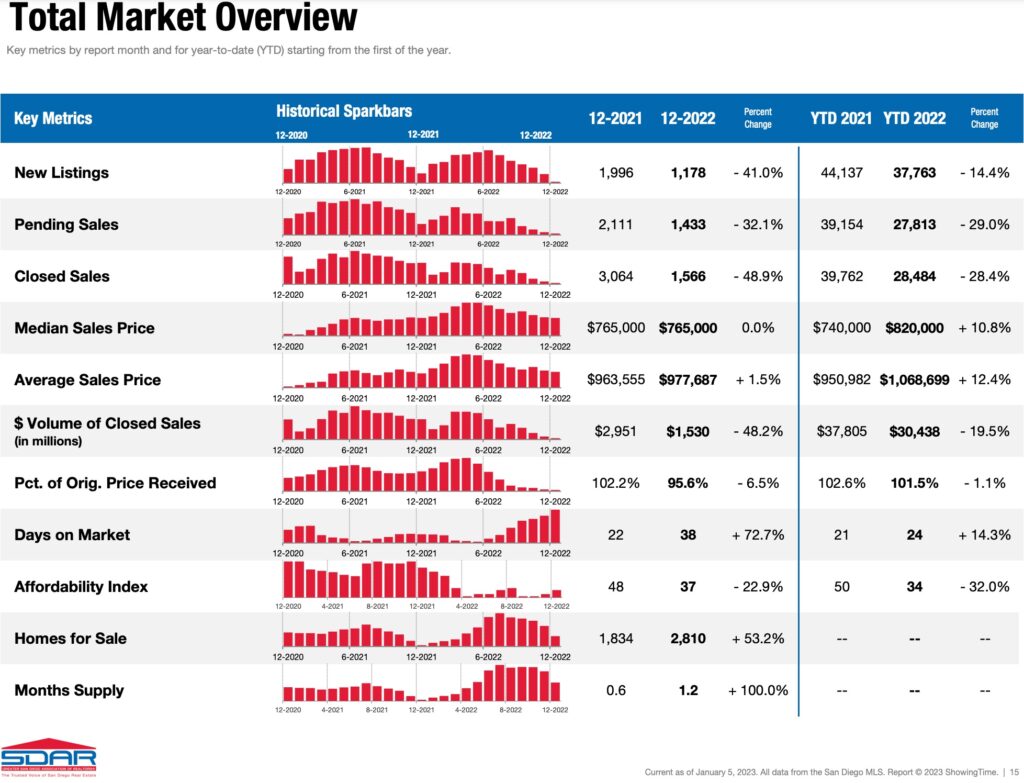 The Above image is a visual summary of my statistics reference from our local San Diego Association of Realtors.
Click here to View Full Stats from San Diego Association of Realtors
2022 Year Review – The Details
Sales Volume:
Sales Volume was relatively good in the first quarter, but the market started shifting hard around April and by mid-summer, sales numbers were 30-40% lower than the previous year at the same time. In Q4, sales numbers slid again to 40-50% less than Q4 the year prior.
Inventory:
With reduced sales volume in the last 7-8 months of the year, inventory was able to creep up in Q4 to 50-60% more than 2021. New listings were down about 15% this year over 2021 and they trended down considerably at the end of the year, which kept inventory from climbing higher along with climbing rates. Despite inventory being up 50% over last year at the same time, our total inventory is still rather low historically speaking. My concern is that demand is low, too…
Loan Rates:
Home loan rates were the talk of the industry in 2022!  Starting the year in the low 3's and then peaking in the low 7's just 10 months later, we were relieved to see a small pullback at the end of the year. The 30-year fixed MND rate average ended the year at 6.5%.  What will rates do in 2023?  That's the question everyone is asking….
Home loan rate charts:
Long Term Rate Chart: 1971 – 2023                               Short Term Rate Chart: 2022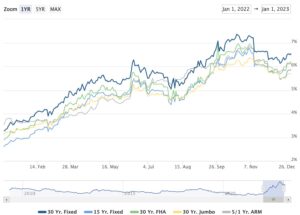 Govt / Policy Changes:
Inflation has been the buzz word in economic news all year and battling it has effected our housing market.  With The Fed raising the federal funds rate on 7 different occasions this year for a total of 4.25%, it's no wonder that home loan rates more than doubled in 2022.  The days of free money ended this year in an effort to thwart inflation.
The feds last meeting indicated they would not be dropping rates in 2023. Some think they will do another small hike at their next meeting. Some think a recession will kick in quicker than expected and they will drop it towards the end of the year. We shall see…
Home Values:
2022 was a wild ride for home values. We shot up 15-20% by May, had a short pause and then started tumbling.  By the end of the year, we had lost all that 15-20% equity that we gained earlier in the year.
What does the future hold? My theories & predictions are below…
Of course, these are just predictions….that said, I'm really hesitant this year because I feel that so much is hinging on where Rates ultimately go.  If rates stay relatively stable, I think we will see a decent seasonally normal spring selling season that will realize a 2-4% equity gain on median prices.  Then, if rates stay relatively stable, I expect we will lose whatever equity is gained and perhaps 2-4% more by the end of the year.
I've read what the big companies are predicting on rates as well as spoken to my trusty sources and they are all over the place. Needless to say, if there is any notable/sustained rate movement in either direction (let's say over .75%), then the market will move with that rate adjustment. I'm expecting rates to stay stable/higher in the short-term and perhaps drop some by the end of the year if/when it's clear inflation has been halted and/or a recession is starting.
Higher rates = less sales, lower sales prices, more inventory.
Lower rates = more sales, higher sales prices, less inventory.
Thus I, like many would-be buyers, will be watching the rates this year.
Want a free lunch?
If you got this far and read my entire article, please let me know what you think with an email/text/call. You've got a free lunch coming to you!  Or, we can share a glass of wine  🙂
And thank you for your referrals – they are the foundation of my business at over 90% the last 5 years.
Adam Pascu
Broker / Owner
73 Degrees Realty
858-761-1707
ps. feel free to check out my San Diego Green Homes site if you have a passion for living green/sustainably and contact me (cell: 858-761-1707) for a free consult regarding how to green your home.