With the Fed at the helm, the galloping horse that once was our local real estate market, has been reined in. Curbing inflation is the goal, but how much curbing can our local real estate market take?  Here's the stats from the 2nd quarter of 2022, along with my predictions for the rest of 2022.   Always hand-written with stats direct from our local MLS.  
Q3 2022 Summary
Sales Volume Down: # of Closed Sales were down 42% in Q3 2022 over Q3 2021
Inventory level:  Down 6% from Q2 2022.  Up 38% from end of Q3 2021
Loan Rates Up Again: Started Q3 at 5.47% and ended Q3 at 6.75%
Home Values Dropping: Median sales price Up 7.6% year-over-year
Govt./Policy/Life Changes: Fed Fund Rate Increases, Covid-19 Shift, Ukraine
Rental Market: Inventory low, Demand up, Rental Rates up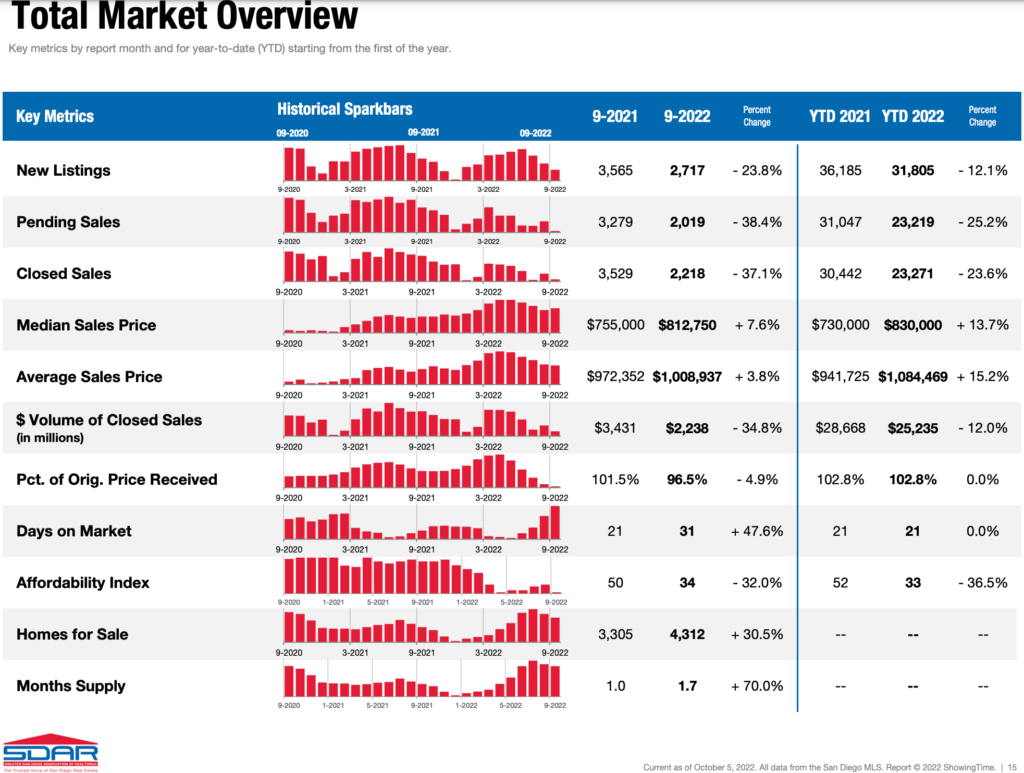 The Above image is a visual summary of my statistics reference from our local San Diego Association of Realtors.
Click here to View Full Stats from San Diego Association of Realtors
Q3 2022 – The Details
Sales Volume:
Sales volume is down 19.6% using the rolling 12-month average, but the total number of sales in Q3 of 2022 was down 42% over Q3 of 2021.   This is a pretty big drop-off in Buyer demand.
Inventory:
Inventory climbed up a bit in Q1, more in Q2 and peaked the first month of Q3. But then, along with seasonal norms, inventory started dropping and has been now for 2-3 months. Inventory is up 30% from the same time last year, but that was an extreme low, so buyers still have few choices.  New listings dropped in the 3rd quarter and were down 20-25% over the 3rd quarter last year.  Usually when the market peaks and buyer demand diminishes, we start to see an influx of inventory for sale with price drops, but because the economy/job market remains strong, those potential buyers are renting which has pushed rents really high. As such, investment property owners are opting to rent rather than sell right now, which I believe is contributing to the shortage of listings.
Loan Rates:
Rates Going Up have been the biggest story all year in real estate and likely the biggest market factor effecting change in 2022.  Higher rates have crushed affordability for borrowers and in essence brought our market to a halt.  Due to unchecked inflation, The Fed raised the Federal Funds rate 6 times this year for a whopping increase of 3.75%.  That's great for my savings account and CD, but not home loans. The way it's been going, we will end the year over 7%.
Home loan rate charts:
Long Term Rate Chart: 1971 – 4/2022                         Short Term Rate Chart:  2022, 7/1 – 10/1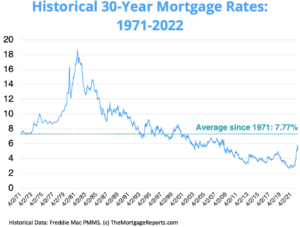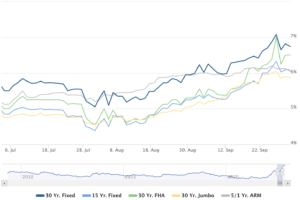 Govt / Policy / Life Changes:
The Federal Reserve raised their benchmark rate .25% in March, .5% in May, .75% in June, .75% in July, .75% in September, and .75% in November.  They are expected to raise the rate again once more before the end of the year. All of this is being done to stave off runaway inflation and get us back to the 2% target.
While this is necessary, and perhaps they are a year too late, it is definitely slowing down the economy.  Let's just hope it's not a little too much, a little too late.
Home Values:
Home Values have been unbelievable this year to say the least.  Home values went up about 15-20% before they peaked in April/May.  And then they dropped almost as quickly as they rose. End of September saw home values up about 7% year over year. I suspect we may end the year near a net zero.
Rental Market:
Now that I am doing more work in the rental market, I thought I'd add a section here for those of you with investment property. Rents are up 15-40% year over year, depending on location. It's really hard to get a good number for rental rates as there isn't a central MLS for rentals like there is for sales, but I've seen some sites claiming 50% jumps in specific areas….  When buyer demand dropped off in Q2, renter demand went up, yet inventory remains low. As such, rents have soared!  As long as the purchase market remains depressed due to higher rates and the job market is strong, rents are going to remain high.
Please contact me if you or someone you know is thinking of renting property in San Diego!
What does the future hold? My theories & predictions are below…
Of course, these are just predictions….that said, I'm not seeing a lot of sales right now, home loan rates remain high and pendings were low last month, so I'm pretty sure Q4 is going to realize another 4-7% drop in home values. I don't expect any bigger drop offs because employment is strong, inventory has been dropping & the rental market remains strong.
It's likely we end this crazy year at a net zero!!
But what about next year?  Since home loan rates are not expected to go down in the immediate future, I suspect next spring will be a low inventory, low volume selling season. Property owners will opt to rent in large numbers. Sellers will want more and buyers will be hesitant to buy, creating the ol' mexican standoff that never ends well for us Realtors in the middle.  Next year, I expect a small increase in home values through Q2, about 1-3%, with a pullback the 2nd half of the year. I don't expect a lot of equity gain or loss next year. I don't expect a lot of action.
Want a free lunch?
If you got this far and read my entire article, please let me know what you think with an email/text/call. You've got a free lunch coming to you!  Or, we can share a glass of wine over my front yard fire pit 🙂
And thank you for your referrals – they are the foundation of my business at over 90% the last 5 years.
Adam Pascu
Broker / Owner
73 Degrees Realty
858-761-1707
ps. feel free to check out my San Diego Green Homes site if you have a passion for living green/sustainably and contact me (cell: 858-761-1707) for a free consult regarding how to green your home.