I once watched a documentary about the first climbers to reach the peak of Mt Everest. There was a race and one crew thought they made it first, but they reached the lower peak about 850 feet lower than the highest peak…..in this moment, I'm wondering if we are at the final peak or if there is another one left.  In short, it appears we hit a peak with a pullback this month, but some think we may have another peak next spring.  Here's the stats from the 2nd quarter of 2022, along with my predictions for the rest of 2022.   Always hand-written with stats direct from our local MLS.  
Q2 2022 Summary
Sales Volume Down: # of Closed Sales were down 21.8% in Q2 2022 over Q2 2021
Inventory Rising:  Up 139% from Q1 2022.  Up 19% from end of Q2 2021
Loan Rates Up Again: Started Q2 at 4.88% and ended Q2 at 5.7%
Home Values Up: Median sales price Up 12.4% in a year
Govt./Policy/Life Changes: Fed Fund Rate Increase, Covid-19 Shift, Ukraine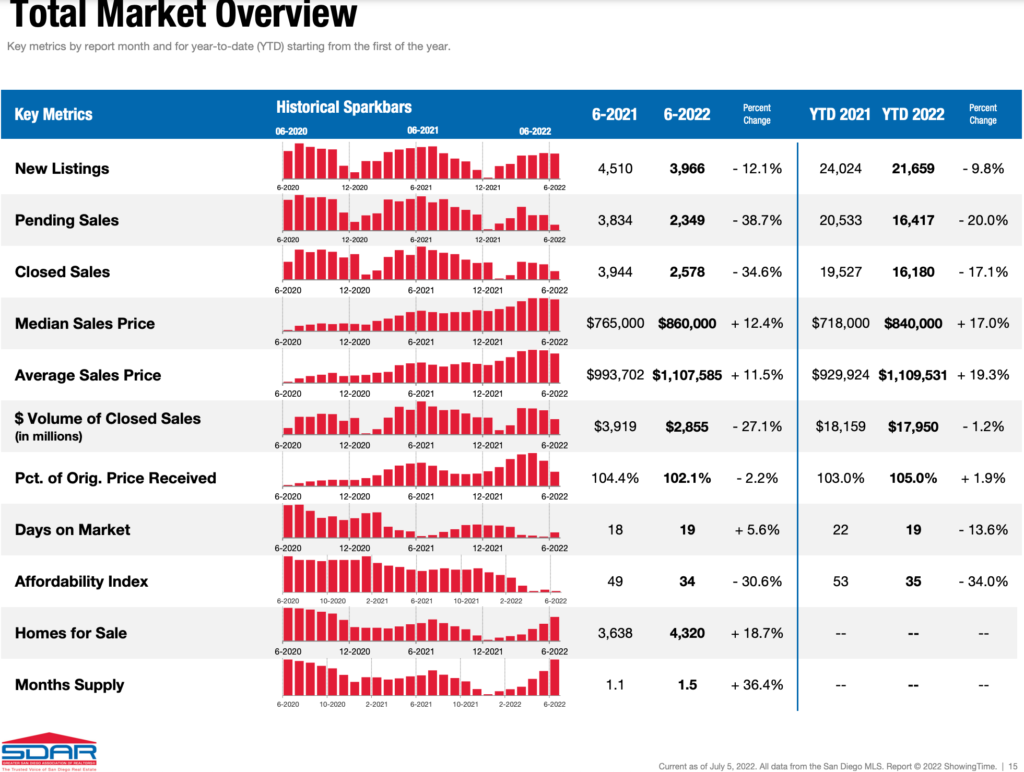 The Above image is a visual summary of my statistics reference from our local San Diego Association of Realtors.
Click here to View Full Stats from San Diego Association of Realtors
Q2 2022 – The Details
Sales Volume:
Sales volume is down 12% using the rolling 12-month average, but total sales in Q2 of 2022 were down 21.8% over Q2 of 2021.  And June sales, specifically, are down 35% over June 2021. Will June turn out to be a momentary pause, or the beginning of a downward trend?  Now that inventory is back up to a more normal level, we can't blame low inventory on low sales volume. June's lack of sales is purely due to a lack of buyer demand.
Inventory:
Record low inventory has been the predominant market factor for the last few years, but we may have hit bottom in December. Inventory climbed up a seasonally appropriate amount in Q1, but really started climbing toward the end of Q2. Inventory is up over 2x what it was in December.  It's typical for inventory to be peaking right about now, so I will be watching it closely in Q3 to see if it goes up any more.  Regardless, we still have an overall housing shortage problem, and as long as the economy/jobs market remains solid, inventory will likely remain fairly low for years.  New listings are down 9.8% this year over last, so there are still very few people selling.
Loan Rates:
Rates Going Up have been the biggest story all year in real estate and likely the biggest market factor effecting change in 2022.  The rise in rates very clearly precipitated the peak in buyer demand as affordability continues to hover around it's historical lows.  Due to unchecked inflation, The Fed raised the Federal Funds rate 3 times this year, and likely will again 2 more times this year. War in Ukraine has affected rates negatively, but there seems to be no relief to the war, unfortunately. We've seen home loan rates level out recently off their high in Mid-June & will be hoping they don't go up much further, but I fear that we will end the year over 6%.
Home loan rate charts:
Long Term Rate Chart: 1971 – 2022                               Short Term Rate Chart:  2022, 1/1 – 7/1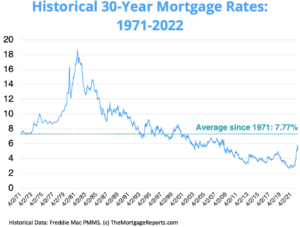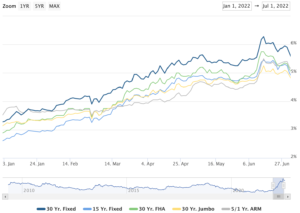 Govt / Policy / Life Changes:
The Federal Reserve raised their benchmark rate .25% in March, .5% in May and .75% in June.  They are expected to raise the rate again in July and once more again before the end of the year. All of this is being done to stave off runaway inflation and get us back to the 2% target.
While this is necessary, and perhaps they are a year too late, it will definitely slow down the economy.  Let's just hope it's not a little too much, a little too late.
And the "Covid Shift" is still bringing homebuyers looking for more land, an extra bedroom and/or an ADU for home office or intergenerational living. We are still seeing an influx of buyers & renters from the Bay Area, many of whom work from home now. I believe this shift will continue and due to our amazing outdoor weather, those seeking refuge from Covid will continue to seek San Diego….the same reason many of us moved here – for our weather.
Home Values:
Home Values have been crazy this year.  Median home values for detached homes went up 17.6% til they peaked at end of April and came down 1-2%.  Condos were up 13.6% this year before peaking in May and coming down 4.8% in June. As such, prices are still up 10-15% this year.  It has been a tough market to be a buyer this year for sure, but that has changed in the last 30 days. I've seen price drops and 1 offer deals happening, instead of multiple offers over asking.
Year over year, we are up 12.8% for detached homes and up 16% for attached housing.
What does the future hold? My theories & predictions are below…
Of course, these are just predictions….that said, I'm really not sure what to expect next.  We are likely to see a 3-8% drop in prices in Q3 based on rising inventory, rising rates, rising prices and ultimately, lower demand.  Q4 really depends on how much we drop in Q3 and how home loan rates move.  I'm thinking we will level out a bit by Q4 and not see any huge movements in prices in Q4 to end the year up 3-7% overall.
A few of you have likely heard me talk about the sell-off that is supposed to occur at the peak of each market cycle. So far that hasn't happened because we haven't peaked yet…. or have we now???  We are at least a year away from any sell-off because inventory needs to build much more before we can start the sell-off, but Q2 put us on the path and Q3 will be very telling. If inventory continues to climb through Q3, then our market has likely peaked and the sell off will start next year. Or, perhaps we won't have a typical sell-off this market cycle because of overall housing shortage and population growth?  Either way, it has been a crazy year with some big ups and some dips happening now, but overall, home values will likely end the year up a small amount.
Want a free lunch?
If you got this far and read my entire article, please let me know what you think with an email/text/call. You've got a free lunch coming to you!  Or, we can share a glass of wine over my front yard fire pit at a safe distance 🙂
And thank you for your referrals – they are the foundation of my business at over 90% the last 5 years.
Adam Pascu
Broker / Owner
73 Degrees Realty
858-761-1707
ps. feel free to check out my San Diego Green Homes site if you have a passion for living green/sustainably and contact me (cell: 858-761-1707) for a free consult regarding how to green your home.