To truly get the joke in my article title you have to have seen the movie Spaceballs (yes, I'm a child of the 80's). So, if you haven't seen Spaceballs, don't worry about it.  In short, the market has been jumping all quarter & hitting new highs.  Here's the stats from the 1st quarter of 2022, along with my predictions for the rest of 2022.   Always hand-written with stats direct from our local MLS.  
Q1 2022 Summary
Sales Volume Down: # of Closed Sales were down 10% in Q1 2022 over Q1 2021
Inventory Record Low:  Mostly Flat in Q1. Down 41% from end of Q1 2021.
Loan Rates Up: Started 2022 at 3.29% and ended Q1 at %4.78
Home Values Up: Median sales price Up 21% in a year!
Govt./Policy/Life Changes: Covid-19 Shift, Ukraine & Fed Fund Rate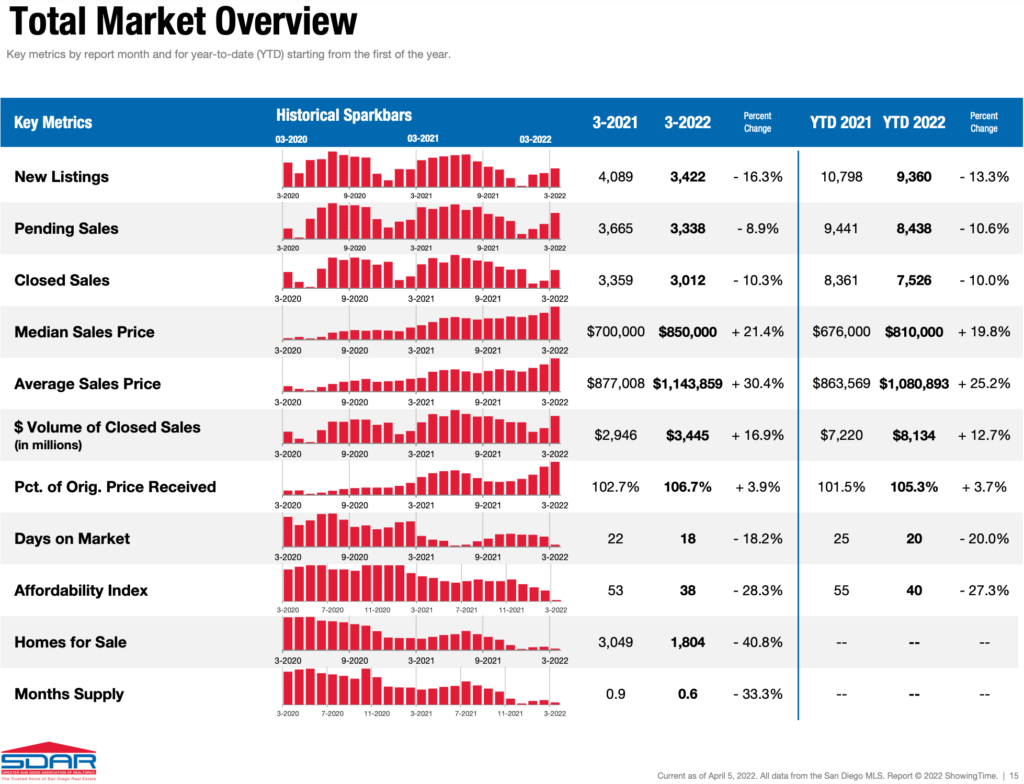 The Above image is a visual summary of my statistics reference from our local San Diego Association of Realtors.
Click here to View Full Stats from San Diego Association of Realtors
Q1 2022 – The Details
Sales Volume:
You might ask how prices are going up, if sales volume is down. Here's why….. First, overall inventory is down 41% over the same time last year, which was down from the previous year. We are at historically low inventory.   Also, new listings were down 13.3% year to date over 2021. As such, a 10% drop in sales volume, actually means we are in a very competitive market and that inventory is still dropping!  Sales volume will likely stay low until an influx of new listings brings a sell off, but will that actually happen?
Inventory:
Record low inventory has been the predominant market factor for the last 1-2 years and we keep hitting new lows. The end/beginning of the year is typically the lowest point for inventory, then it climbs all spring into early summer before peaking. Currently, our inventory has remained almost completely flat since the beginning of the year, which means we are extremely low seasonally speaking.
In short, until population declines/moves out of CA (unlikely), the economy/employment tanks and/or new housing is actually produced quickly at an affordable price, we are likely to see a relatively low inventory market for many years.
Loan Rates:
Rates have come off their historic lows from last year and pushed up quite a bit this quarter!  Part of that is a short-term response to the war in Ukraine, but on the broader scale, it's the rising inflation which brings a rise in the Federal Funds rate, which effects what banks and therefore people can borrow money for.
While rates in the 4.5-5% range sound pretty normal to the over 40 crowd, to millenials used to seeing sub 4% rates, it could be a hard pill to swallow with these rising prices. But so far, rates have not put a damper on home values this quarter.
Home loan rate charts:
Long Term Rate Chart: 1971 – 2021                               Short Term Rate Chart: Q1 2022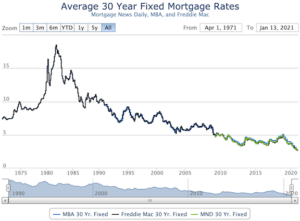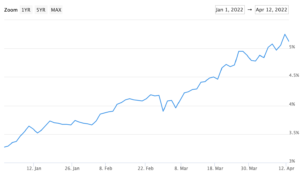 Govt / Policy / Life Changes:
"Federal Reserve officials voted Wednesday to lift interest rates and penciled in six more increases by year's end, the most aggressive pace in more than 15 years, in an escalating effort to slow inflation that is running at its highest levels in four decades. The Fed will raise its benchmark federal-funds rate by a quarter percentage point to a range between 0.25% and 0.5%, the first rate increase since 2018." (Wall Street Journal)
Runaway inflation is the #1 reason that the Fed is aggressively looking to raise the Federal fund rate. I don't remember ever seeing inflation like this in my lifetime. It's needed. But as a result, lenders have raised their rates, too, building in those future rate increases into their loans now. And that should also (eventually) cool off the housing market like it did at the end of 2018. And that is also needed IMO. Let's just hope it's not a little too much, a little too late.
And the "Covid Shift" is still bringing homebuyers looking for more land, an extra bedroom and/or an ADU for home office or intergenerational living. I believe this shift will continue and due to our amazing outdoor weather, those seeking refuge from Covid will seek San Diego….the same reason many of us moved here – for our weather.
Home Values:
If you hadn't already guessed, home values went up quite a bit this quarter – like 15%.  Median value at year's end was $850k and at Q1 end, $975k.  I've seen homes in my neighborhood going $1-200k over asking. It has been a tough market to be a buyer this year for sure. Extremely low inventory, rising loan rates, appraisal waivers and a market shift towards more residential space per household all combined to give us an average 21% equity gain countywide year-over-year!  I haven't seen 20+ percent in a year since the market of 2002-2005.
What does the future hold? My theories & predictions are below…
Of course, these are just predictions….that said, I'm really not sure what to expect next.  We are likely to see another 5% bump in Q2 based on how low inventory is and how hot the market still is today as I'm writing this. After that, I'm guessing, and perhaps hopeful, that prices will stabilize in the 2nd half of the year. If we go any higher than 5% in Q2-Q3, then I would expect a small pullback near the end of the year.
Sometimes when rates go up, there is a mad rush to get in before they go higher. But soon, if rates stay over 4.5%, that will start putting downward pressure on prices. That's what I think will start happening near the end of Q2 where I think we will find our peak for the year.
For the handful of you that actually read my articles this far, you have likely heard me talk about the sell-off that is supposed to occur at the peak of each market cycle. So far that hasn't happened because we haven't peaked yet!!  We are at least a year away from any sell-off because inventory needs to build much more before we can start the sell-off. Perhaps we won't have a sell-off this market cycle?? At a minimum, it feels like we have another 5-15% to go before our market tops off, perhaps next summer…..I'll let you know if there's more to go when we get there, so stay tuned.
Want a free lunch?
If you got this far and read my entire article, please let me know what you think with an email/text/call. You've got a free lunch coming to you!  Or, we can share a glass of wine over my front yard fire pit at a safe distance 🙂
And thank you for your referrals – they are the foundation of my business at over 90% the last 5 years.
Adam Pascu
Broker / Owner
73 Degrees Realty
858-761-1707
ps. feel free to check out my San Diego Green Homes site if you have a passion for living green/sustainably and contact me (cell: 858-761-1707) for a free consult regarding how to green your home.