Here's the stats from the 1st quarter of 2021 in San Diego real estate, along with predictions for the rest of 2021.   Always hand-written with stats direct from our local MLS.  Q2 was quite unbelievable! Read on to learn how…
2021 Q2 Summary
Sales Volume Up: Up 31% from Q1 2021.  Up 34% from Q2 2020
Inventory Record Low!:  Down 49% from Q2 2021
Loan Rates Down a bit: Started at  3.39%, went down to 3.17%
Home Values Up!: Median sales price Up 27% over Q2 2020
Govt./Policy Changes: Covid-19 Stimulus & Biden's Market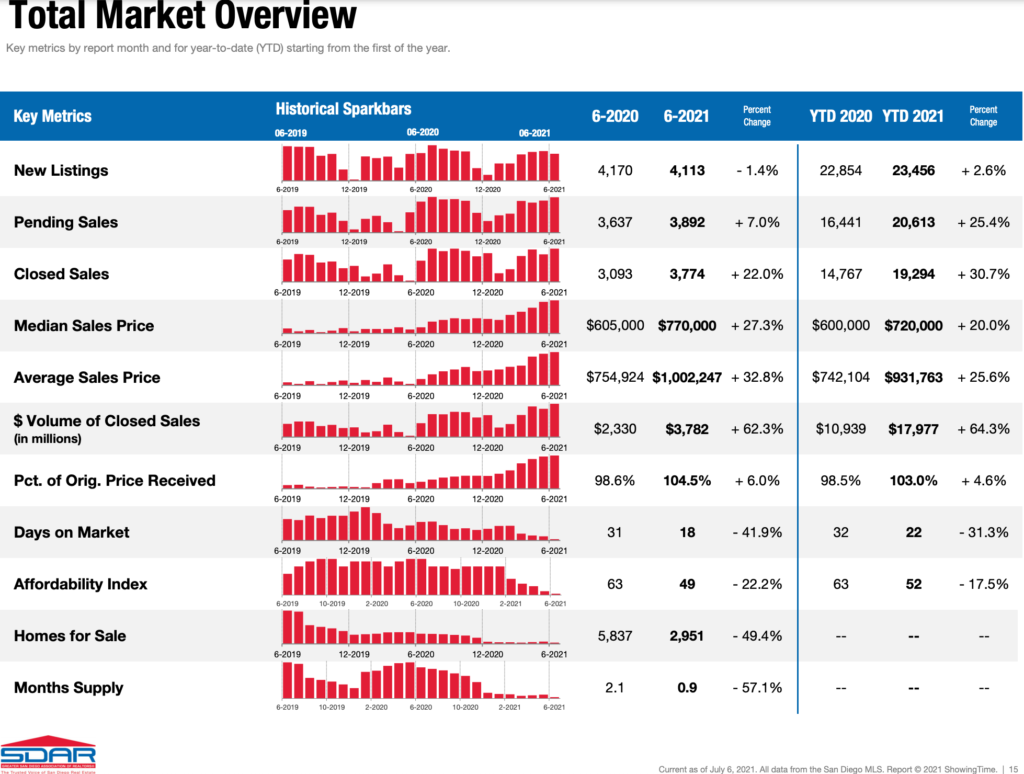 The Above image is a visual summary of my statistics reference from our local San Diego Association of Realtors.
Click here to View Full Stats from San Diego Association of Realtors
2021 Q2 – The Details
Sales Volume:
Sales Volume (# of total sales) spiked this quarter – much higher than Q1 of this year and much higher than Q2 of last year. Considering inventory was lower this year than last, it is a big deal to see a 34% increase in sales over the same seasonal period from last year.  Pending sales were strong in June, indicating that sales volume will stay in July.
During Covid, we saw a shift of buyer demand focused more towards detached homes. Based on that shift, the inventory of detached homes went down quite a bit more than attached condos. Thus, as we entered this quarter, there were more condos for sale than homes. With Covid number dropping drastically and more condos available (and more affordable than homes), Q2 saw a major pick-up in condo sales which closed the inventory gap between homes & condos that was prevalent during covid.
Inventory:
Inventory has been trending down for a few years, but during the early stages of Covid last year, we experienced a big drop that we haven't recovered from.  It's common for inventory to go up in the spring and peak around now, but this year, inventory has been relatively flat and we have not experienced the normal seasonal increase in inventory due to such strong demand & high # of sales.
New listings are up 2.3% year to date over 2020, so the lack in inventory is due to the high sales volume.  Perhaps the eviction moratorium and Covid fears have kept some listings off market, but I tend to think our issue is larger than that.  We need to start building more (affordable) housing because there is an overall housing shortage. Inasmuch as I saw homes selling for 5-10% above asking this quarter, I also saw renters paying 10% more, too, as the vacancy rate in San Diego has hit rock bottom. It's likely that discretionary sellers have held on to wait for a market peak and those folks are likely to list in the next 6-12 months. Maybe us Realtors should be doing an inventory dance so that our buyers have more homes to buy….?
Loan Rates:
Rates had been on a steady decline for about 2 years, hitting all-time lows last year.  But rates went up solidly in Q1 before sliding back down a bit in Q2 – overall rates are up this year.  Oddly enough, the rise in rates happened at the same time that prices were going through the roof, which is not normal. I can only imagine how crazy the frenzy could have been if rates had dipped or stayed flat all year.
My lender is expecting rates to stay somewhat level and/or rise a bit this year. Perhaps that is another reason folks are scratching and clawing to buy right now, while rates remain low….
Home loan rate charts:
Long Term Rate Chart: 1971 – 2021                               Short Term Rate Chart: 2021 Q2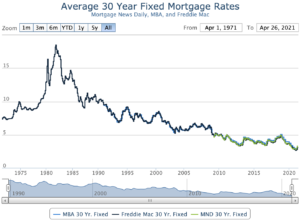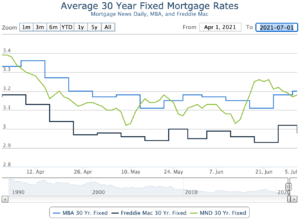 Govt / Policy Changes:
The biggest news of Q1 was the Biden $2trillion stimulus plan. The wave of buyer demand that has ripped across San Diego, and I'm told most of the country, has to be due in part to that massive injection of money into the economy. Right now, there are more big spending bills on the horizon, such as the infrastructure bill, that could also pump money into the economy and give further fuel to rising prices, as well as inflation.
In addition to the new Stimulus plan, The fed has kept the Federal Funds rate next to Zero for about a year now. This increased liquidity in the markets has certainly helped the economy overall, which increases buyer demand. With inflation on the rise, it is expected that the Fed will raise the rate some in 2022 and 2023.
Home Values:
Median home values  are up 27% year over year right now!  Part of the high percentage increase we are seeing is also due to the quick dip we experienced this time last year at the beginning of Covid.  With sales volume high and inventory low, that was the perfect storm for prices to spike like they did.  And they accelerated very recently at the end of Q1 and through Q2 at alarming rates.  Inventory remains low, as are loan rates, but affordability has decreased drastically, so the pool of buyers is starting to dwindle. We are seeing less offers on our listings and "buyer fatigue" can be felt all around. So which way will the pendulum swing the second half of the year??
What does the future hold? My theories & predictions are below…
Of course, these are just predictions….that said…we just experienced a very quick bump in prices that has been going on for about 4 months, after a mostly upward market since 2013.  Conventional wisdom would tell me that prices should experience some kind of pull back, but there is nothing conventional about the current market or times.
I'm having a lot of trouble predicting the next 6 months, mostly because I believe it will partially depend on the infrastructure bill, as well as any rollback to Covid mandates due to a case spike from the Delta Variant.
If Biden could have passed what he wanted to originally, I think we would have seen another 5-10% increase by the end of the year, however the Republicans are fighting hard to minimize & cut back his bill. With the current conversations seemingly set around $1 trillion instead of $2 trillion, I'm expecting something like this to get passed. If I'm right, I'll predict another 2-5% by the end of the year. However, if there is major partisan fall out and a bill is postponed or not passed, I think we have seen the peak of our market for the year.
It doesn't seem like people are moving out of San Diego any more than they are moving in. With the rise of work from home options, we continue to receive overflow from San Francisco, LA and other expensive areas of California that prefer the San Diego weather & lifestyle (and relatively cheaper prices).   I think the market in 2022 will be much less exaggerated, but that depends on how high we go this year along with govt spending. If we go up another 5-10% this year, then we are more likely to see a pullback IMO. And unfortunately, I don't think Covid/airborne virus' will just go away in 3-6 months and never return, so I also see more of a shift towards detached homes with yards and less demand in urban/denser areas or condos. But the over-riding trend is that there remains an overall housing shortage….the rental market is just as tight. Thus, with supply at all-time lows, long-term prospects for San Diego real estate are still high IMO, despite the fact that we are hitting new peaks right now.
Want a free lunch?
If you got this far and read my entire article, please let me know what you think with an email/text/call. You've got a free lunch coming to you!
And thank you for your referrals – they are the foundation of my business at over 90% the last 5 years.
Adam Pascu
Broker / Owner
73 Degrees Realty
858-761-1707
ps. feel free to check out my San Diego Green Homes site if you have a passion for living green/sustainably and contact me (cell: 858-761-1707) for a free consult regarding how to green your home.