If you put your money on local real estate going down this year, you lost. Recent demand is quite high, perhaps from buyer's that were sitting around and waiting in Q2, but are now making up for lost time….  Here's the stats from the 3rd quarter of 2020 in San Diego real estate, along with predictions for the rest of 2020.   Always hand-written with stats direct from our local MLS.  
2020 Q3 Summary
Sales Volume Up: Up 40% from Q2 2020.  Up 6% from Q3 2019
Inventory Record Low!: Down 19% from end of Q2 2020. Down 41% from Q3 2019
Loan Rates Still Very Low: Started at 2.94%, went down/up t0 3.04%
Home Values Up: Median sales price Up 17% over Q3 2019. Up 10% in Q3 Alone.
Govt./Policy Changes: Covid-19 Stimulus & Fed Fund Rate Drops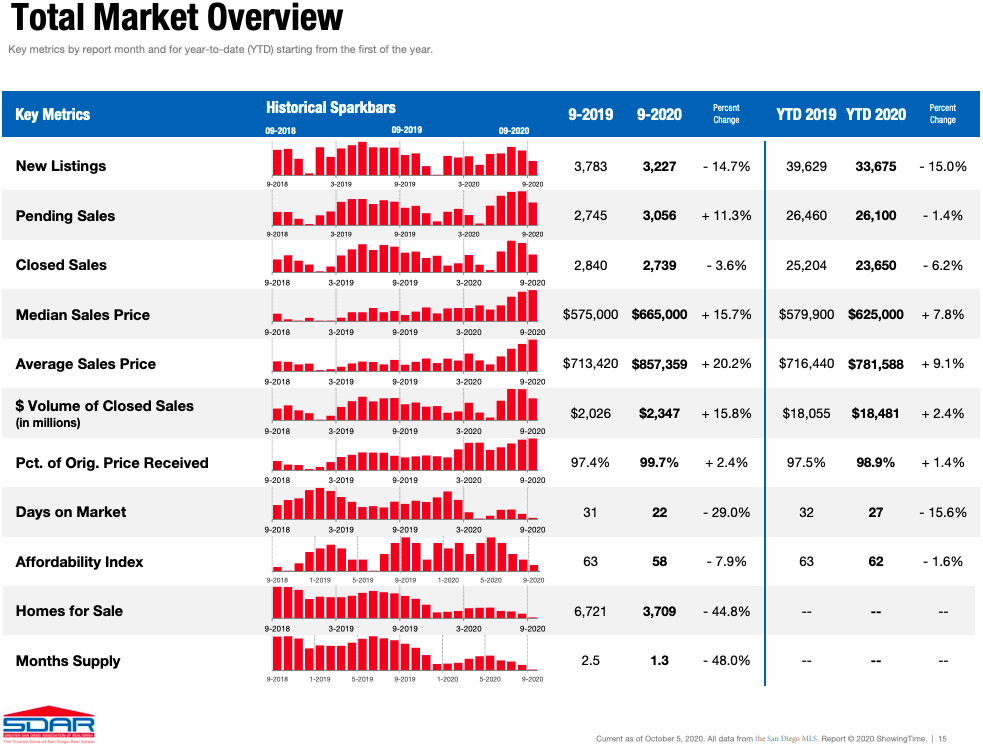 The Above image is a visual summary of my statistics reference from our local San Diego Association of Realtors.
Click here to View Full Stats from San Diego Association of Realtors
2020 Q3 – The Details
Sales Volume:
Sales Volume was initially down due to Covid-19 earlier this year.  But demand picked up fast at the end of Q2 and pending sales went through the roof.  The trajectory of the market was steeply up this quarter as evidenced by the 40% increase in sales volume over Q2.  However, the total sales volume compared to Q3 last year in 2019 is up 6%. But what's extraordinary about a higher sales volume this Q3 over Q3 2019 is that inventory is about 45% less than it was last year, so to have more sales, means a Seller's Market.
Inventory:
Inventory had been trending down for over a year when Covid happened.  New listings are down and yet sales volume is up!  This is by far the lowest inventory market I've seen in over 15 years in the business.
Will listing inventory pick up and/or demand subside?
Loan Rates:
Rates had some small ups and down in Q3, but overall, they stayed relatively constant just around 3%. Rates for purchases are lower than refinances and some markets, such as cash-out refinances, are or have experiencing high rates and/or lenders pulling out. 
Loan rates are at historic lows right now!  Now is the time to refinance if it fits your situation at all. You don't have to re-amortize into a 30-year, you can do a 25-year, 20-year or a 15-year loan to limit your interest paid. 
Home loan rate charts:
Long Term Rate Chart: 1971 – 2020                               Short Term Rate Chart: 2020 Q3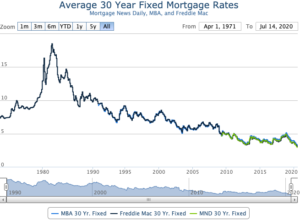 Govt / Policy Changes:
2019 saw 3 quarter point reductions to the federal funds rate. Then, in response to the Covid-19 pandemic, the fed dropped half a point March 3 and a full point March 16!  The fed fund rate is just above zero again.
Then, the govt passed a huge stimulus bill, which they have added to….and perhaps another stimulus bill will be decided upon soon.  The stock market responded well to the stimulus each time, and then our real estate market started responding, too.  I believe that stimulus money is partially responsible for pushing/inflating our prices up. 
Home Values:
We ended Q1 with Median values up 8% over the same time last year.  But in early Covid-19, some sellers sold for less and prices dipped a bit around April/May.  However, the market came roaring back in May and it steamrolled its way through quarter 3 for a 10% increase in just 3 months!  Prices are now up 17% year over year. 
I've thought quite a lot about this and what many people don't realize is the shift from commercial to residential real estate. Every buyer I worked with this summer had a need for an extra room for a home office. While office buildings languish empty, residential buyers are asking for more. More bedrooms, more land. This is the paradigm shift that those focused on rates and inventory are missing as one of the underlying causes of the Covid Boom.
What does the future hold? My theories & predictions are below…
Of course, these are just predictions….that said… I think that the 4th quarter of the year will level off with slow sales but with prices staying strong, despite lower demand, mostly due to extremely low inventory.  There is a lot on the line right now with regards to the election and stimulus that it makes it really hard to predict much in this market. Admittedly, I underestimated the market in Q3.
Inventory will drop towards the end of the year as it always does. As we approach another record low inventory, some buyers will become increasingly discouraged, but some will reach to pay as much if not more than the last person simply because there aren't any other options for them besides paying high rent or moving out of California.
Since inventory and rates are at all time lows currently, I don't expect prices to start dipping anytime soon.  I'm going to predict a 1-2% increase in prices in Q4. If we get a stimulus bill, prices will go up. If we don't get any stimulus bill at all this year, we may see a small drop in prices in December.
At some point, I believe we will have a sell-off, which is typical after a market peaks. But where is that peak?  The Covid Price Boom has come on the coat tails of extremely low inventory, so I don't expect a sell off for another year now.
Rates will likely stay low for the next 3-6 months, which will hold up prices.  But predicting 2021 depends so much on the presidential election & potential stimulus bill IMO, so I'm not going to say this with ANY belief, but if you want to know….
I'm going to predict a tight low inventory market the first half of the year with slightly lower sales than Q1 of this year.  By year's end, I do believe we will see some Covid-related economic ripples, such as unemployment effect our local real estate market with downward pressure and more new listings, but I do still think we will gain equity in 2021 overall, if only by 1-3%. Considering we are up 17% year over year currently, another year of even modest gains is quite good IMO.
Want a free lunch?
If you got this far and read my entire article, please let me know what you think with an email/text/call. You've got a free lunch coming to you!
And thank you for your referrals – they are the foundation of my business at over 90% the last 5 years.
Adam Pascu
Broker / Owner
73 Degrees Realty
858-761-1707
ps. feel free to check out my San Diego Green Homes site if you have a passion for living green/sustainably and contact me (cell: 858-761-1707) for a free consult regarding how to green your home.