If you're like me, you've been doing a lot of puzzles with your kids at home this year….but this market has really puzzled me. Just when I thought I had it pegged, it took a U-turn. Here's the stats from the 2nd quarter of 2020 in San Diego real estate, along with predictions for the rest of 2020.   Always hand-written with stats direct from our local MLS.  
2020 Q2 Summary
Sales Volume Down: Down 4% from Q1 2020.  Down 27% from Q2 2019
Inventory Record Low!: Down 16.5% from end of Q1 2020. Down 44% from Q2 2019
Loan Rates Record Lows!: Started at 3.88%, went down t0 2.94%
Home Values Up: Median sales price Up 2.5-3.0% over Q2 2019
Govt./Policy Changes: Covid-19 Stimulus & Fed Fund Rate Drops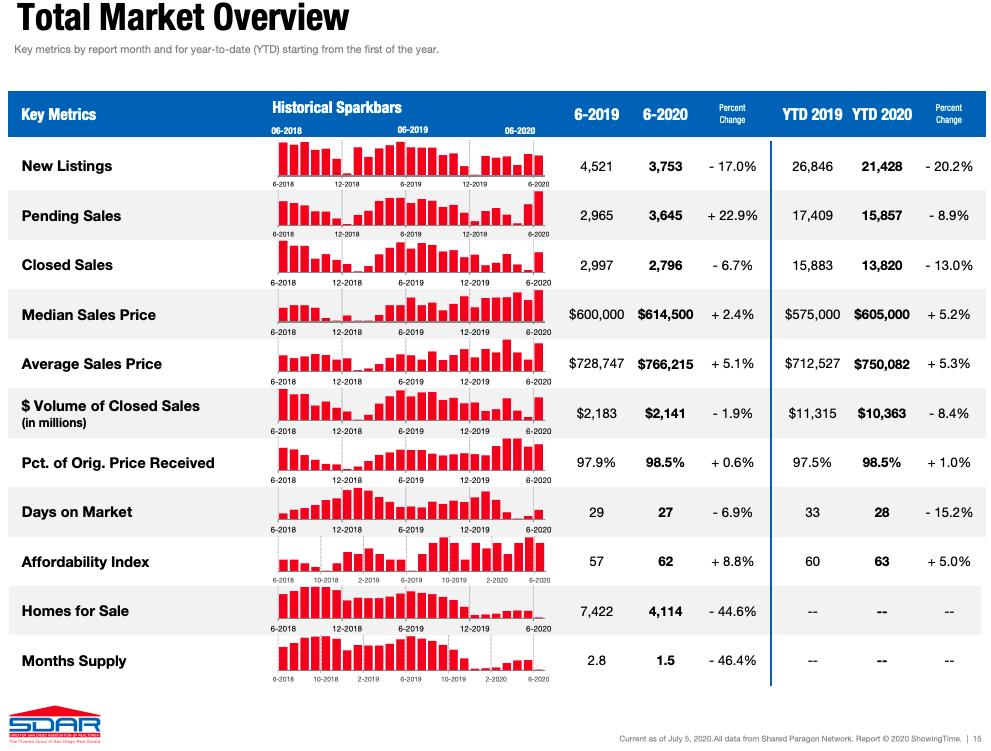 The Above image is a visual summary of my statistics reference from our local San Diego Association of Realtors.
Click here to View Full Stats from San Diego Association of Realtors
2020 Q2 – The Details
Sales Volume:
Sales Volume was down quite a bit due to Covid-19 this year overall. Part of that is lower demand, but there has also been a huge drop in inventory, which has exceeded the drop in sales.  Sales started out the first quarter on target, but then started to wane heavily at the beginning of Q2. But as things started opening up in May the pent up demand showed itself and pending sales went through the roof. As such, June was a solid month for sales. Despite sales volume being down 7% over last year's numbers, there was a corresponding drop of 43% in inventory that one needs to consider in the same sentence. In May & June, demand outpaced supply, which was realized in June's median price.
Inventory:
Inventory has been trending down, seasonally adjusted for over a year. Normally there is a large influx of listings in the spring and inventory rises, but instead, we saw a drop this year. New listings are down 18.7% on a rolling 12-month average, but most recently the last 3 months are down closer to 30%, presumably due to Covid-19. Our percentage of available housing is at record lows.
I saw some listings being pulled off the market in March, presumably due to the pandemic.  Will those listings come back in force soon? Will others follow?  Or is population growth outpacing housing inventory as a whole?
Loan Rates:
Rates were on the decline for a year, but they had very abnormal activity in the beginning of the Covid-19 shutdown as evidenced by the short-term rate chart below. But as Q2 started, the banking industry worked out their liquidity issues, the fed dropped rates & started stimulus spending and lenders started lending again. Rates kept dipping to all time lows and are now under 3%!
Loan rates are hitting historic lows right now!  Now is the time to refinance if it fits your situation at all. You don't have to re-amortize into a 30-year, you can do a 25-year, 20-year or a 15-year loan to limit your interest paid. 
Home loan rate charts:
Long Term Rate Chart: 1971 – 2020                               Short Term Rate Chart: 2020 Q1&Q2
Govt / Policy Changes:
2019 saw 3 quarter point reductions to the federal funds rate. Then, in response to the Covid-19 pandemic, the fed dropped half a point March 3 and a full point March 16!  The fed fund rate is just above zero again.
Then, the govt passed a huge stimulus bill, which they have added to.  The stock market responded well to the stimulus, and then our real estate market started responding, too. 
Home Values:
Median home values started going up again at the end of 2019 and continued into March. We ended March with Median values up 8% over the same time last year.  But as Covid-19 shutdowns ripped across CA and the rest of the world, some sellers got anxious and accepted less for their homes in March and early April. This momentary scare did show a drop in median sales values in May.  However, the market came roaring back in May and June with demand outpacing supply and median prices jumping back up to a new high. 
What does the future hold? My theories & predictions are below…
Of course, these are just predictions….that said… I think that the 2nd half of the year is going to be fairly strong.  I expect that inventory will remain low and that demand will continue to outpace supply as buyers take advantage of low rates. Most of my potential buyers are paying more to rent than they would be to own, due to how low rates are. This is one reason I expect buyer demand to stay relatively strong.
I eventually expect to see a rise in inventory as those with equity decide to sell off their investment and those who lost jobs, move away. I'm not sure when this will happen, but I'm guessing it may not happen til spring of 2021.
But since inventory and rates are at all time lows, currently, I don't expect prices to start dipping anytime soon.  I'm going to predict a 1-2% increase in prices in Q3 with a relatively flat Q4. If the economy looked stronger, I would be predicting another 2-3% rise in home values this quarter, but with a new wave of Covid shutdowns happening, we may see another slowdown in activity.  At some point, I believe we will have a sell-off, which is typical after a market peaks.
Rates will likely stay low for the next 3-6 months. And, as folks focus on the election, I expect sales to drop at the year's end. But I am very uncertain about these predictions as we are still in the middle of the Pandemic….
Want a free lunch?
If you got this far and read my entire article, please let me know what you think with an email/text/call. You've got a free lunch coming to you!
And thank you for your referrals – they are the foundation of my business at over 90% the last 5 years.
Adam Pascu
Broker / Owner
73 Degrees Realty
858-761-1707
ps. feel free to check out my San Diego Green Homes site if you have a passion for living green/sustainably and contact me (cell: 858-761-1707) for a free consult regarding how to green your home.