Here's the stats from the 1st quarter of 2020 in San Diego real estate, along with predictions for 2020.   Always hand-written with stats direct from our local MLS.  
2020 Q1 Summary
Sales Volume Up Seasonally: Down 14% from Q4 2019.  Up 9% from Q4 2019
Inventory Record Low!: Up 1.4% from end of Q4 2019. Down 26.7% from Q4 2019
Loan Rates Down then Up/Down: Started at 3.74%, went down, then up/down t0 3.75%
Home Values Up: Median sales price Up 8% over Q1 2019
Govt./Policy Changes: Covid-19 Stimulus & Fed Fund Rate Drops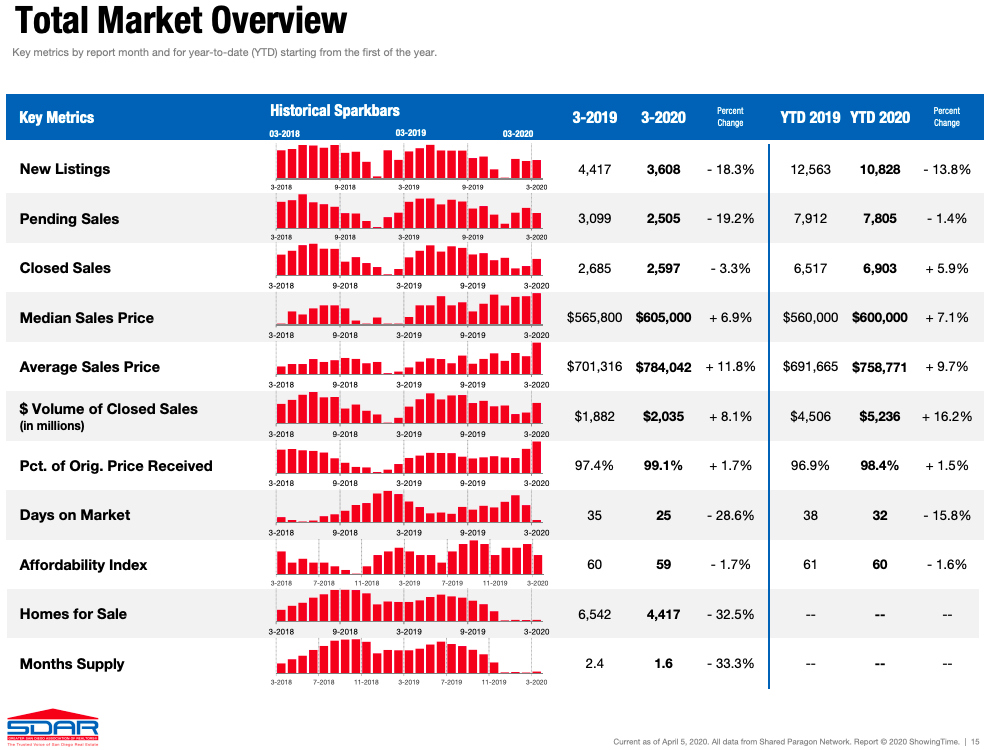 The Above image is a visual summary of my statistics reference from our local San Diego Association of Realtors.
Click here to View Full Stats from San Diego Association of Realtors
2020 Q1 – The Details
Sales Volume:
Sales Volume (# of total sales) had been rising for the last 8 months, but March showed the first year over year drop since last July.  Not surprisingly, this shift corresponded almost identically with the drop in home loan rates.  But what happened in March?  Covid-19 IMO.  I had one escrow drop out and my title & escrow officers also noted a higher volume of drop-outs in March as the Pandemic & govt orders spread rapidly. They also told me new escrows were down in March and these numbers show that. If it weren't for the Covid-19, I'm pretty sure we would have had 20-30% more sales in March. But did that demand just go away or will they be back when this is over?
Inventory:
Inventory has been trending down since beginning of 2019, seasonally adjusted. Normally there is a large influx of listings in the spring and inventory rises, but we have been flat for almost 3 straight months this year. We hit historic lows not seen since the early 2000's bubble when there was less overall total housing. As such, our percentage of available housing is even less than it was back then.
With inventory trending down seasonally for a year, we would normally expect upward pressure on pricing this year during the usual spring season, but how will some respond to the Covid-19?  I saw some listings being pulled off the market in March, presumably due to the pandemic.  Will those listings come back in force soon? Will others follow?
At the route of this inventory decline are 2 things. First, new listings are down 10% as a rolling 12-month average. Second, Closed Sales volume (i.e. demand) has been up, presumably due to lower rates and higher affordability. And as noted above, some sellers took their property off market due to the Pandemic.
Loan Rates:
Rates were on the decline all of 2019, in general, and that continued in the first 2 months of the year. Rates dipped to extreme lows with the MND daily average bottoming out at 3.13% in early March.  But then, liquidity issues rocked the lending / banking industry and rates skyrocketed up to 4% in one week. Then they went on an up and down rollercoaster and have since dropped back to 3.25% on April 9 as I'm writing this.  Due to dropping rates, affordability has been on the rise overall, except for the liquidity spikes we saw mid-late April.
Loan rates are hitting historic lows right now!  Now is the time to refinance if it fits your situation at all.
My lender is expecting rates to dip below 3% in the near future. You should be in touch with your lender to be ready to lock-in once it goes low enough to make sense for you. You don't have to re-amortize into a 30-year, you can do a 20-year loan or a 15-year loan to limit your interest paid. 
Home loan rate charts:
Long Term Rate Chart: 1971 – 2020                               Short Term Rate Chart: 2020 Q1
Govt / Policy Changes:
2019 saw 3 quarter point reductions to the federal funds rate – this was a big shift from year's prior which saw a rise in the rate. Now, with the Covid-19 pandemic, the fed dropped half a point off the rate March 3 and then a full point just two weeks later on March 16!  The fed fund rate is just above zero again.
Then, the govt passed a huge stimulus bill to help individuals and businesses that are suffering as a result of the stay at home mandates and other local laws that have shuddered some businesses completely. While I'm not a big fan of deficit spending, I think this one was needed. And, if the checks actually get sent anytime soon, I believe that should get the economy going again.  The stock market certainly responded well to the stimulus, but IMO, this last week of rising stock prices is a temporary bubble due to the stimulus package announcement. 
Home Values:
Median home values started going up again at the end of 2019, against the seasonal norm. As such, I was expecting a very competitive 1st quarter with rising prices. And that's exactly what we saw. We ended March with Median values up 8% over the same time last year.  But sales prices are a reflection of the market 30-45 days prior so we won't really start to see any data on price drops due to Covid-19 until April and May numbers are out. I've heard and seen a number of differing things, so I will wait until I see the stats to comment.
What does the future hold? My theories & predictions are below…
Of course, these are just predictions….that said… I think that the 2nd half of Q2 is still going to be strong. Q1 already saw a 3% increase in median home values, so I don't think we will see rising prices in Q2. All listings that enter market at a reasonable price will sell, but those expecting more than the last local sale are going to linger on market as buyers are becoming cautious. Rates are super low right now and the market will start jumping again very soon. Real estate was made an essential business over a week ago & Realtors everywhere are shifting their practices to be Covid-19 safe. (i.e. no open houses, virtual showings, virtual tours, digital, etc.)
I expect that we will start to see a rise in inventory as those with equity decide to sell off their investment and those who lost jobs, move away. There will be an initial surge of listings that were holding off due to Covid-19, but after that, I don't think this will happen quickly. I expect that we will see a slow rise in inventory over the next year. Unfortunately, I believe that Covid-19 is the pin that burst our small economic bubble and that we are in for a minor recession that will effect our housing market.  But since inventory is still incredibly low and rates are at all time lows, too, I don't expect prices to start dipping quickly or at a noticeable rate. If the economy looked stronger, I would be predicting another 2-3% rise in home values this year, but I'm expecting job/business losses will slow down demand, too.  At some point, I believe we will have a sell-off, which is typical after a market peaks.
Rates will likely creep up towards the end of the year from the all-time lows they will likely be hovering at for the next 3-6 months. And, as folks focus on the election, I expect sales to drop with a slight pullback on prices, too, at the year's end. But I am very uncertain about these predictions as we are still right in the middle of the Pandemic here as I write this.
Want a free lunch?
If you got this far and read my entire article, please let me know what you think with an email/text/call. You've got a free lunch coming to you!
And thank you for your referrals – they are the foundation of my business at over 90% the last 5 years.
Adam Pascu
Broker / Owner
73 Degrees Realty
858-761-1707
ps. feel free to check out my San Diego Green Homes site if you have a passion for living green/sustainably and contact me (cell: 858-761-1707) for a free consult regarding how to green your home.