Here's the stats from the 3rd quarter of 2019 in San Diego real estate, along with predictions for the rest of 2019 and beyond….   Always hand-written with stats direct from our local MLS.  
2019 Q3 Summary
Sales Volume Up a Bit: Down 3% from Q2 2019.  Up 6% from Q3 2018
Inventory Dropping: Down 14% from end of Q2 2019. Down 17% from Q3 2018
Loan Rates Dropped Again!: Started at 3.82%, then dipped t0 3.52%
Home Values Slightly Down: Median sales price Down about 1% over Q3 2018
Govt./Policy Changes: Tax Reform Bill & Fed Fund Rate Drops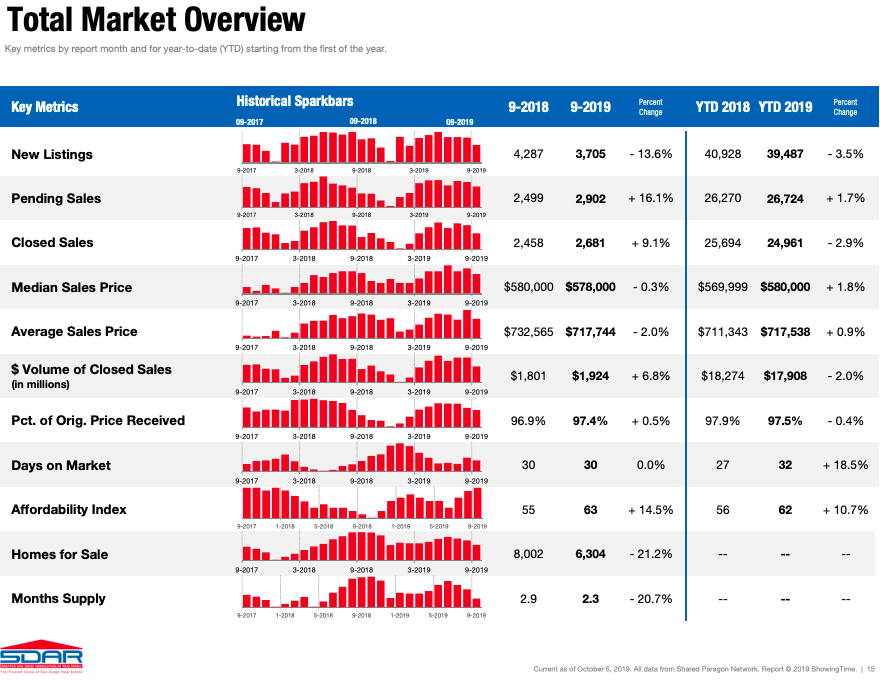 The Above image is a visual summary of my statistics reference from our local San Diego Association of Realtors.
Click here to View Full Stats from San Diego Association of Realtors
2019 Q3 – The Details
Sales Volume:
Sales Volume (# of total sales) has been dropping slowly for the last couple years. Year-to-date, total sales volume is down 2.9% over 2018.  However, Q3 saw a shift in sales volume in the opposite direction. Sales volume was steady all quarter long, which is against the natural slowing trend we usually see in Q3. Seasonally, sales volume was going up all quarter beating 2018 numbers by more and more each month.
Similarly, while pending sales were down the first 6 months, they have turned sharply up in Q3.  With pending sales being high in September, that indicates October sales will be stronger than normal, too.
Inventory:
Inventory turned trajectory and started rising in 2018.  While it is standard for inventory to rise most of the first 6 months of the year, we stayed quite level in the first 2 quarters. Thus seasonally adjusted, inventory was dropping the first 2 quarters. And, inventory dropped all of the 3rd quarter, too. With inventory trending down all year, there is upward pressure on pricing once again.
At the route of this inventory decline are 2 things. First, new listings are down 10-15% over last year's numbers. Second, Closed Sales volume (i.e. demand) was up this quarter.
Our current inventory is dipping into the historically low range that we saw 2 years ago. Part of the sales push demand can be directly attributed to dropping loan rates.
Loan Rates:
Loan rates are hitting historic lows right now! If you have any need to refinance your home, whether it be to lower payments, pay off your loan sooner (15-year loan) or cash out for renovations/college/payoff CC/business, now is the time to speak with your lender!
Rates have been dropping for about a year now – just look at the 2019 chart below. Lenders have been beefing up their sales forces, already taking advantage of the current refinance boom.  This consistent drop in rates has to be somewhat responsible for keeping median values from dipping after the market peaked at the end of 2018. Rent has gone up, but the cost of financing a home has gone down by about 20%. 
Most lenders I'm speaking with are expecting rates to stay at this level in the very short-term before trending up again in the next 6-12 months. Big issues like Brexit, Impeachment & Trade Wars are likely the cause for keeping home loan rates artificially low, so it will be interesting to see how these issues turn out and how the rates move according to what happens.
Home loan rate charts:
Long Term Rate Chart: 1971 – 2019                               Short Term Rate Chart: 2019 YTD weekly
Govt / Policy Changes:
After 8 Federal Funds rate hikes in 2017 and 2018, the Fed was exercising a policy of "patience" in 2019 without any changes, until Q3.  Powell announced a rate cut in July and then again in September!  Although the fed fund rate doesn't correlate to home loan rates directly, it does spur economic growth and investment. 
The 2018 tax reform is done. It is my belief that the corrections/softness I have seen in the $1-1.5mil price point the last year is highly related to the change in tax law as that price point is the most effected by the changes. I also believe that correction is mostly over. 
Home Values:
Median home values peaked about Aug 2018 and slid downwards til the end of January when values started on the rise again.  Despite the low inventory, low rates and uptick in sales volume, median values were declining in Q3……why is that?
My theory below….
What does the future hold? My theories & predictions are below…
I think that we are entering the "sell-off" phase of our market. Historically, our market goes in ups and downs on a 10-year cycle and the sell-off happens after the peak when prices start dropping and inventory is high. Our last cycle was quite exaggerated, both in the up and the down, so much so that I think this cycle is depressed. I'm guessing our "down market" will be relatively flat, with minor ups and downs related to other economic news.
Currently, we are hitting super low inventory, which doesn't quite correspond with the "sell-off" phase history.  That's what is different about this cycle as I'm watching it unfold. Building housing has become so hard and unaffordable to do, that our population has outpaced our building supply. Lack of inventory/supply is propping up home values in what should be the middle of our down cycle market.
We are also hitting historically low home loan rates right now. I think they will stay relatively low as the uncertainty in Geo-Politics continues. But I do think rates are artificially low and that they will climb back up some soon.
As such, I don't foresee a notable drop in prices beyond what we've already seen in Q3.  The pending sales currently are very high, which means October will be a high sales month and that inventory will continue to drop. We may see a small slide towards the end of year holidays, but the current trajectory is pointing up.
I'm expecting Q1 of 2020 to start slow. With minimal inventory, buyers will be a bit discouraged and waiting on the sidelines for more homes to hit market, but those that are in the market, will likely be coming up against multiple offers. We will likely see a small rise in prices in the next 6 months and then prices will dip again towards the end of next year. Much of what happens at this point with Buyer Demand is going to be a reaction to home loan rates and inventory. If one of those goes on the rise, we will see a small pullback. If both were to go on the rise concurrently, we would see a more notable correction. But if inventory stays this low, only a notable change in population/economy would cause any notable pullback. I think it's more likely that we see a more notable rise in rates with inventory staying low.  As such, I still expect the market to stay relatively flat over the next year with seasonal fluctuations.
Want a free lunch?
If you got this far and read my entire article, please let me know what you think with an email/text/call. You've got a free lunch coming to you!
And thank you for your referrals – they are the foundation of my business at over 90% the last 5 years.
Adam Pascu
Broker / Owner
73 Degrees Realty
858-761-1707
ps. feel free to check out my San Diego Green Homes site if you have a passion for living green/sustainably and contact me (cell: 858-761-1707) for a free consult regarding how to green your home.