Here's what I'm seeing from the 2nd quarter of 2019 in San Diego real estate, along with predictions for the rest of 2019….   Always hand-written with stats direct from our local MLS.  
2019 Q2 Summary
Sales Volume (seasonally) Down: Up 41% from Q1 2019.  Down 7% from Q2 2018
Inventory Leveling Off: Up 7% from end of Q1 2019. Down 2% from Q2 2018
Loan Rates Dropping!: Started at 4.22%, then dipped t0 3.81%
Home Values Slightly Up: Median sales price up 3-4% over Q2 2018
Govt./Policy Changes: Tax Reform Bill & Fed Fund Rate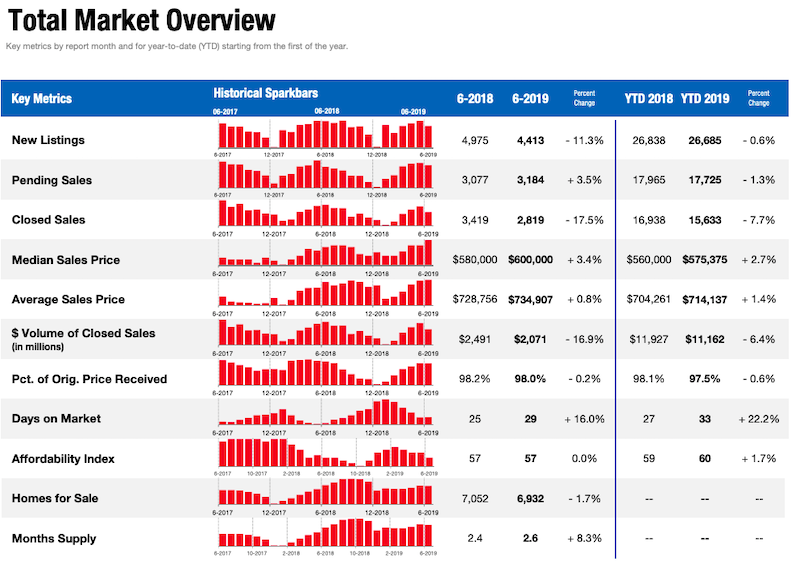 The Above image is a visual summary of my statistics reference from our local San Diego Association of Realtors.
Click here to View Full Stats from San Diego Association of Realtors
2019 Q2 – The Details
Sales Volume:
Sales Volume (# of total sales) has been dropping slowly for 1-2 years. The rolling 12-month average drop year-over year is about 8%. However, that trend leveled out in March, April and May. But then came June with a 17-18% drop in sales from the year prior, keeping us back in line with the rolling 12-month average….
While pending sales are also down year over year at 5% rolling average, June saw a 6% increase year over year, indicating July (and perhaps August) will be a good month for closed sales. It is normal for sales volume to be peaking around this time of the year, so June is really the anomaly there.  But June is also supposed to be one of our higher inventory months in the season, and it was not….
Inventory:
Inventory had been on the rise steadily most of 2018.  While it is standard for inventory to rise most of the first 6 months of the year, we did not see that trend this year. We have stayed quite level with just a very small increase over where we started the year.  Thus, seasonally speaking, we have been losing inventory this year, which is putting upward pressure on pricing.
New listings are down over last year's numbers, too, further contributing to lower inventory than expected.
Our current inventory still remains historically quite low.
Loan Rates:
If you have any need to refinance your home, whether it be to lower payments, pay off your loan sooner (15-year loan) or cash out for renovations/college/payoff CC/business, now is the time to speak with your lender!
Rates have been dropping for about 9 months now. Lenders have been scurrying back into refinance boom mode.  The consistent and notable drop in rates could be attributed to the recent uptick in activity and sustained, albeit small, median value increases. Afterall, if money is 20% cheaper today than it was 9 months ago, why wouldn't you buy when your rent didn't change and is costing you about the same/month as it would to own?
Most lenders I'm speaking with are expecting rates to stay at this level in the short-term before trending up again towards the end of the year. Big issues like Brexit & Trade Wars could cause temporary drops/rises as Q3 progresses.
Home loan rate charts:
Long Term Rate Chart: 1971 – 2019                               Short Term Rate Chart: 2019 Q2 weekly
Govt / Policy Changes:
After 8 Federal Funds rate hikes in 2017 and 2018, the Fed has continued their policy of "patience" in 2019 without any changes, until now.  Jerome Powell just signaled that they will likely cut the rate later in July. The markets have already reacted, sending stocks higher. 
Tax reform is another big change that people have seen in action now that 2018 taxes are done. It is my belief that the corrections/softness I have seen in the $1-1.5mil price point is highly related to the change in tax law as that price point is the most effected by the changes. These people are easily hitting the $10k SALT tax limit with just their CA income tax, thus they are getting zero tax benefit from property taxes. Also, the interest deduction cap dropped from $1mil to $750k, thus anyone financing over $750k, was not getting a tax benefit on those dollars.  Thus, those folks saw a $4-500/month negative shift in affordability, which is about a $50k correction when you look at price. However, that price point will also be positively effected by the notable drop in rates.
Home Values:
Median home values peaked in august of 2018 and slid downwards til the end of January when values started on the rise again.  Despite the approximate 6 month drop in values from Aug-Jan, we are still seeing year over year increases of about 3% year-over-year and the current trend is pointing up.  Remember the definition of the median value statistic, which states people are spending 3% more than last year, but it doesn't necessarily mean that homes went up 3% in value. My theory below….
What does the future hold? My theories & predictions are below…
I've been scratching my head the last year asking why the stats on home values don't jive with what I'm feeling in the market. Median values were still up, but the market seemed down. To understand my theory, we have to understand the definition of the median home value, which is simply the amount the middle person spent over a specific period.  Median values have remained up year-over-year despite my belief that prices have dropped in certain markets. My theory goes something like this:
The economy is strong, people have jobs, thus people have money to spend.
Because rates have dropped, people are able to purchase higher prices for less $$/month.
However, people are hesitant of buying at the peak as prices are "high" and they expect more.
Thus, prices have softened and/or dropped, yet median values are slightly up. People are spending a tad bit more, but they are getting more home and spending a bit less monthly, too.
With all that said, inventory has been dropping (seasonally-speaking) all year thus I don't think prices will go lower in the 3rd quarter, but maybe the 4th. I think the more affordably priced markets may have actually gained equity in Q2 whereas most markets were just treading water or taking a small dip, such as the market around $1.5mil due to new tax laws.
I'm expecting Q3 to be fairly tight. With limited inventory, sellers will expect a little more as they have minimal competition. Whereas buyers are still hesitant to pay more than the last guy, so I'm expecting a bit of a stand-off with prices remaining relatively level. But Q4 is likely to find buyer fatigue and a small drop in prices, especially if home loan rates tick back up towards year end.
Welcome to the flatline……we are mostly just treading water right now.
Want a free lunch?
If you got this far and read my entire article, please let me know what you think with an email/text/call. You've got a free lunch coming to you!
And thank you for your referrals – they are the foundation of my business at over 90% the last 5 years.
Adam Pascu
Broker / Owner
73 Degrees Realty
858-761-1707
ps. feel free to check out my San Diego Green Homes site if you have a passion for living green/sustainably and contact me (cell: 858-761-1707) for a free consult regarding how to green your home.