Here's what I'm seeing from the 1st quarter of 2019 in San Diego real estate, along with predictions for the rest of 2019….   Always hand-written with stats direct from our local MLS.  Off to a slow start, but the market is heating up again!
2019 Q1 Summary
Sales Volume Down: Down 12% from Q4 2018.  Down 11% from Q1 2018
Inventory Leveling Off: Down 3% from end of Q4 2018. Up 8% from Q1 2018
Loan Rates Dropping!: Started at 4.55%, then dipped t0 4.11%
Home Values Up: Median sales price up 2.3% over Q1 2018
Govt./Policy Changes: Tax Reform Bill & Fed Fund Rate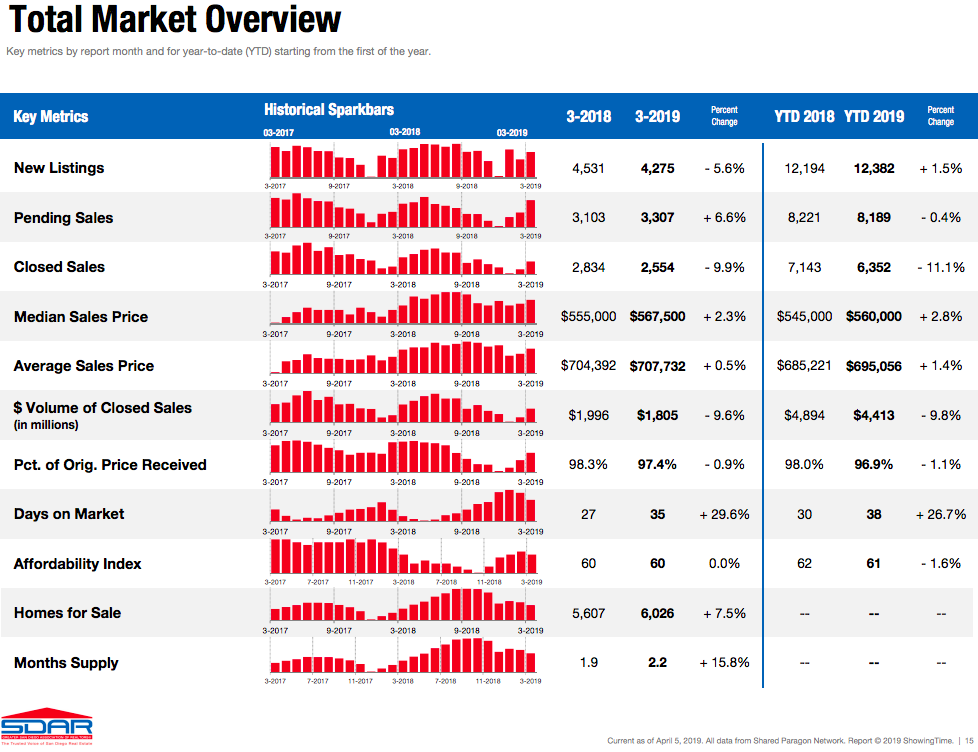 The Above image is a visual summary of my statistics reference from our local San Diego Association of Realtors.
Click here to View Full Stats from San Diego Association of Realtors
2019 Q1 – The Details
Sales Volume:
Sales Volume (# of total sales) has been going down (within seasonal norms) for 1-2 years. The rolling 12-month average drop year-over year is about 10%. However, in the 2nd and 3rd month of Q1, sales volume was down 6-7% year-over-year thus showing a trend in the opposite direction.
Also, pending sales were up 4% and 7% in Feb and March year over year, further indicating a positive trend towards higher sales volume than last year.
Inventory:
Inventory had been on the rise steadily most of 2018.  It peaked at the end of August, which is a bit late seasonally speaking. Total Inventory is up as a result of more new listings than last year, as well as fewer sales. While it is standard for inventory to rise most of the first 6 months of the year, the last 2 months have both seen declines.
The inventory shift has shifted back in the opposite direction in Q1.  As an example, Detached homes inventory in Jan, Feb & Mar were 33%, 17% and then just 3% higher than the previous year.
Additionally, new listings trended down in the opposite direction, too. While the 12-month rolling average of detached new listings is up 6.8%, Feb and March were Down 6.5% and 4.3% respectively.
As a reminder on perspective, we hit an all-time low in inventory at the beginning of 2018, thus our current inventory remains historically low.
Loan Rates:
Rates started 2018 at 4.05% (MND average), steadily climbed itil peaking in early November at 5.05%.  Since then, rates have dropped quickly and dipped back into the low 4's.  Inasmuch as the rise in rates in 2018 could be attributed to the slowdown of sales, the recent drop in rates could be attributed to the recent uptick in activity. 
The drop in rates has positively effected affordability which is actually up year over year for the first time in many years.
Most lenders I'm speaking with are expecting rates to stay at this level in the short-term before trending up again towards the end of the year. Big issues like Brexit could cause temporary drops/rises as Q2 progresses.
Home loan rate charts:
Long Term Rate Chart: 1971 – 2018                               Short Term Rate Chart: 2019 Q1 weekly
Govt / Policy Changes:
After 8 Federal Funds rate hikes in 2017 and 2018, the Fed continues their policy of "patience" in 2019 without any changes.  Current indications are that the Fed will keep things steady for the time-being.  
Tax reform is another big change that people are seeing in action now that 2018 taxes are done. Some have tax refunds that they will be putting towards down payments, etc. Either way, the uncertainty of how each person's taxes will be effected is now over. I'm guessing that lack of uncertainty has put a few more buyers into the market. 
Home Values:
Median home values peaked in august of 2018 and slid downwards til the end of January when values started on the rise again.  Despite the approximate 6 month drop in values from Aug-Jan, we are still seeing year over year increases of about 2-3% year-over-year and the current trend is pointing up.  
What does the future hold? My predictions are below…
What's next?:
It is my belief that the market is warming up right now, after the initial slow start. Rates have been dropping and it's seasonally the time of year for increased sales and median home value increases. Buyers are jumping back in after a small correction and lower rates have together caused a small increase in affordability in the last few months.
But the market of buyers is also fickle. We are experiencing more escrow drop-outs currently as they read articles like this one from the LA Times with the headline that Southern California fell for the first time in 7 years:
https://www.latimes.com/business/la-fi-southern-california-home-prices-20190426-story.html
But while the market was trending towards higher inventory in 2018, lower sales and lower values, it has shifted again in the opposite direction again. Months Supply of Inventory is the best measure of supply/demand and that's trending heavily back towards a seller's market right now. Inventory dropped in the first quarter and that is very abnormal for the season. 
I'm expecting Q2 to start posting a little more inventory and definitely more sales than Q1. If rates remain low as expected, this will push buyers to buy and spend more as their monthly cost is lower.
As a result, I'm expecting 1-3% equity gains in Q2 that will fizzle over a bit into the summer and Q3. Similar to last year, I'm expecting a small pullback at the end of the year.  Basically, I'm predicting a relatively normal market with typical seasonal fluctuations and year over year equity gains of 1-3%
Over the next couple years, we are likely to see similar seasonal markets with very minimal equity gains, if any. Until I see inventory/new listings/rates rise notably, there's no reason to predict a notable pullback in home values. The economy is still strong, unemployment is at historical lows and wage growth is happening, too. Population is increasing, California is popular and land is finite. After the huge ups and downs of the last market in the 2000's, I think that the down market of this 10-year period is going to be more of a flatline with seasonal variations.
Want a free lunch?
If you got this far and read my entire article, please let me know what you think with an email/text/call. You've got a free lunch coming to you!
And thank you for your referrals – they are the foundation of my business at over 90% the last 5 years.
Adam Pascu
Broker / Owner
73 Degrees Realty
858-761-1707
ps. feel free to check out my San Diego Green Homes site if you have a passion for living green/sustainably and contact me (cell: 858-761-1707) for a free consult regarding how to green your home.