2016 Summary
Sales Volume Steady: Up ~1% over 2015
Inventory Hits Record Low!: Down 10-15% from 2015
Loan Rates Down & Up: Started at 4.02, dropped & then ended at 4.21%
Home Values Up: Median sales price up ~6-7% over 2015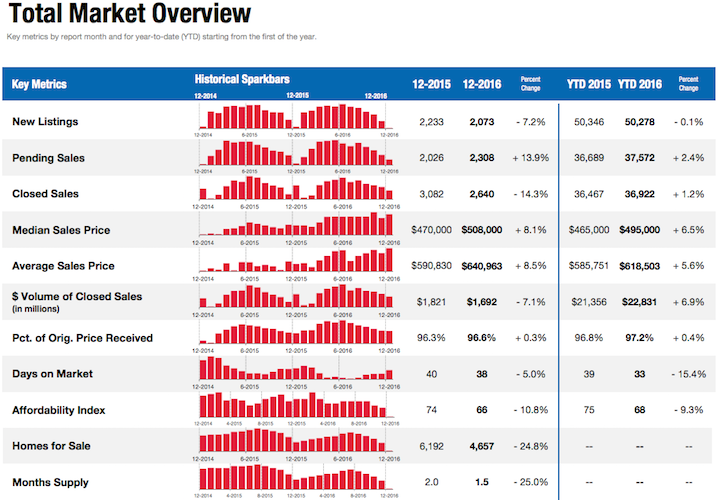 The Above image is a visual summary of my statistics reference from our local San Diego Association of Realtors.
Click here to View Full Stats from San Diego Association of Realtors
2016 – The Details
Sales Volume:
Despite an unusually late & strong surge in the fall that peaked in October, the rest of Quarter 4 was silent.  Sales volume overall in 2015 was only up about 1% over 2015 numbers, but with less listing inventory to choose from, the market felt really tight this past year. In essence, demand stayed level/strong, but supply went down.
Inventory:
Inventory has been dropping consistently for about 5 years now. There is a lack of overall housing availability whether buying or renting and this lack of inventory is what will continue to push home values up.  Our rolling monthly average for inventory in 2016 is 10-15% lower than 2015.  Inventory is always lowest at the end of the year, but we are currently lower than I've seen in over 12 years and are currently about 25% lower than the same time last year.  So while our pool of buyers that can/are willing to afford our rising home prices is shrinking, the supply for these folks is shrinking much faster.
Loan Rates:
Rates started the year around 4% (4.02 for MND on Jan 4), but quickly dropped about .25 before hovering for a few months around 3.75. The summer brought another drop and we hit bottom on July 6 at 3.34%. Rates stayed relatively flat around 3.5% until Election Day and then they took a steep hike until leveling off around Christmas and ending the year at 4.21%.
The fed did raise the Federal Funds Rate from 0.5% to 0.75%, as expected, in December.  How the next administration will influence the Fed is yet to be seen.
2015 Home loan rate chart: (see banner at bottom for historical data)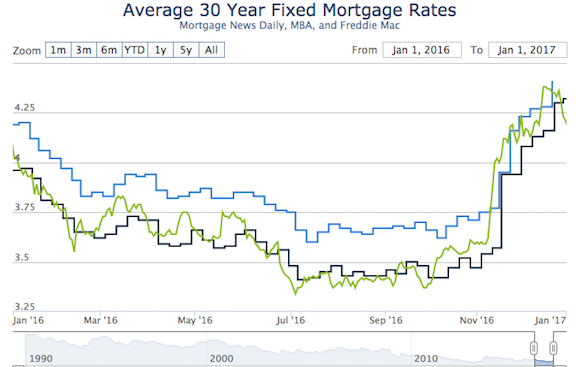 Home Values:
Prices at a base level are determined by the balance between supply and demand. While demand remains consistent, the supply of new listings was down at the end of 2016 and the overall supply has been slightly lower in 2016 than in 2015. Thus, we saw a pretty consistent rise in home values all year long, right up until the election.  The market died after the election which coincided with a quick 0.5% rise in home loan rates. But there was nothing to buy, so only the desperate sellers sold and a few buyers got the best deals of the year. The rest are holding on because they know there's no competition. As such, we ended the year on a high at median purchase value of $508k for all residential housing and $572,190 for a detached home, which was about 8% above the same time last year.
What does the future hold? My predictions are below…
What's next?:
While it's not that hard to predict the short-term if you have the correct statistics at hand, mid & long-term economic trends are quite elusive and usually prove me wrong. That said….
We started this year at the lowest inventory since the middle of the last bubble period around 2003.  I'm feeling buyer demand picking up in January through my listings, buyer inquiries, and speaking to other agents/title professionals, but there's still very little to show them/sell. Rates have settled down a little since the late 2016 hike.
Thus, I expect another seller market for fair-priced listings and a 2-4% rise in home values by summer time.  There is definitely some uncertainty with the incoming administration, but I will stop there on any further comments until we've seen some actions. 100 days is just about the time for my next market update. Until then…
Thank you for reading – I appreciate your time as well as your comments. Here are a couple additional resources if you are thinking about buying or selling in the near future:
And thank you for your referrals – they are the foundation of my business at over 90% the last 4 years!
Adam Pascu
Broker / Owner
73 Degrees Realty
858-761-1707
ps. feel free to check out my San Diego Green Homes site if you have a passion for living green/sustainably and contact me (cell: 858-761-1707) for a free consult regarding how to green your home.