2016 Q1 – Early Bird Catches the Worm
Q1 2016 Summary:
Sales Volume Steady: Down 6% from Q4. Up 1% from Q1 2015
Inventory Still Dropping!: Down 2% from Q4. Down 13% from Q1 2015
Loan Rates Down: The MND 30-year fixed rate dropped about 0.38% & ended Q1 at 3.71%
Home Values Up: Median sales price up ~3% from end of Q4. Up ~7% from Q1 2015.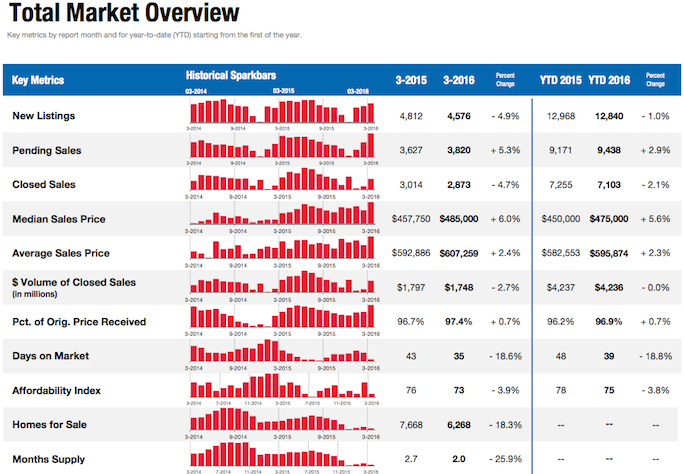 The Above image is a visual summary of my statistics reference from our local San Diego Association of Realtors.
Click here to View Full Stats from San Diego Association of Realtors
2016 Q1 – The Details
Sales Volume:
Q4 was a pretty solid quarter seasonally speaking, however late November through December are typically the slowest time of the year. As a result, closed sales in January & early February are usually very low, hence the small drop in sales from Q4. But sales volume remains consistent overall with Q1 2016 being just 1% higher than Q1 2015. What's notable here, is the trend, which takes big strides each month and is pointing up.  The quick drop in rates all through January likely contributed to the market heating up. We likely would have had higher sales numbers if inventory didn't keep setting new record lows.
Inventory:
Inventory has been dropping consistently for almost 5 years now. It is this lack of supply, which has pushed home prices back up to the last (bubble) peak of 2005. It is plain to see from the image above that inventory ("homes for sale") as a whole has been extremely low this year, even lower than last year, which was lower than last year, etc.  The typical seasonal norm is that inventory starts climbing slowly throughout the year until it peaks in the early fall, but we are seeing inventory topping off already here in April, which could continue to send home values up in Q2.
The number of new listings on market is fairly steady with Q1 of 2015, but the demand is strong enough to keep total listing count down. The "Months Supply of Inventory" is the statistical representation of the supply demand curve and it is at it's lowest point in years having dropped about 20% from last year!
Loan Rates:
Rates started Q1 at 4.09 after a fairly steady rate hike in Q4. Rates dropped consistently throughout January and most of February until bottoming out at 3.65%.  We then saw a quick little correction up and ended the quarter at 3.71%.
As rates were approaching all time lows, we definitely saw a lot of refinance applications and questions coming through.
Home loan rate charts:
Long Term Rate Chart: 1992 – 2015                                                                        Short Term Rate Chart: 2015 weekly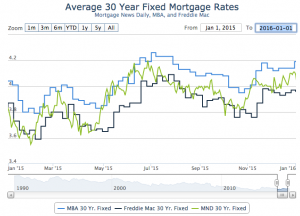 Home Values:
While values stayed relatively flat through Q4 and the first couple months of Q1, March saw a notable jump in median sales prices. As a whole, the median & average sale prices have gone up about 7% and 4% respectively over Q1 of last year. I place more value on the median than the average, but neither is perfect.  This continues a 2-3 year run of a fairly level and healthy growth rate. Q1 is usually a "ramping up" time period for the market and this year's Q1 was no different. As such, it's my belief that those that bought early this quarter, got the worm. As noted above, the supply/demand curve is still pointing towards more equity growth. What does the future hold? My predictions are below…
What's next?:
While it's not that hard to predict the short-term if you have the correct statistics at hand, mid & long-term economic trends are quite elusive and usually prove me wrong. As a real estate broker, I don't have the knowledge or time to follow macro-economics. As such, I don't make predictions past the short-term and do not advise you to make financial decisions based on my predictions.  That said….
Currently, San Diego inventory remains extremely low and rates made a strong downward move since the first of the year, both of which place strong upward pressure on the market.  You can see the initial results of this in March's sales price & pending listings jumps.
My buyers that are looking right now are constantly coming up against multiple offers on any decently priced listings, and those listings are selling in less than a week. I'm seeing listings go pending that are listed a good 3-4% above the comps from Q4.  Assuming the markets I'm currently looking in are representative of the whole (which I believe they are), I suspect Q2 will continue to see demand outpace supply and home values will rise another 2-3%. This of course assumes that rates stay relatively level as a rise in rates could stall upward momentum. If this year is like last year, we'll have an early peak by mid-summer and the fall will see a leveling of prices/activity.
Thank you for reading – I appreciate your time as well as your comments. Here are a couple additional resources if you are thinking about buying, selling or just curious about your home's value:
And thank you for your referrals – they are the foundation of my business at over 90% the last 3 years.
Adam Pascu
Broker / Owner
73 Degrees Realty
858-761-1707
ps. feel free to check out my San Diego Green Homes site if you have a passion for living green/sustainably and contact me (cell: 858-761-1707) for a free consult regarding how to green your home.