2016 Q2 – Staying on Track
Q2 2016 Summary:
Sales Volume Strong: Up 40% from Q1. Same as Q1 2015
Inventory Extremely Low!: Up 3% from end of Q1. Down 8% from end of Q2 2015
Loan Rates Down Again!: The MND 30-year fixed rate dropped about 0.29 & ended Q2 at 3.42%
Home Values Up: Median sales price up ~3% from end of Q1. Up ~5-6% from Q2 2015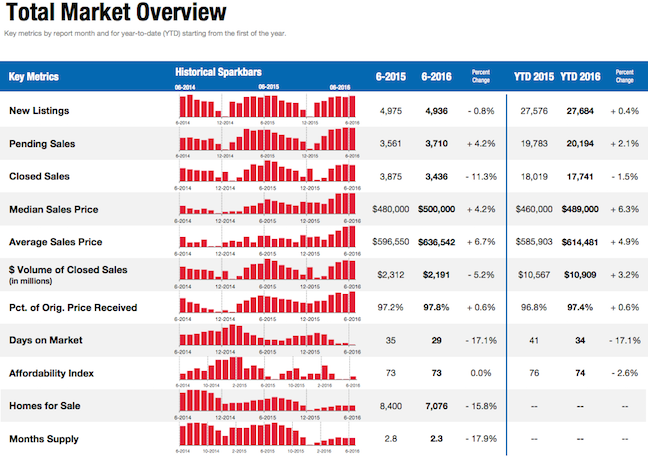 The Above image is a visual summary of my statistics reference from our local San Diego Association of Realtors.
Click here to View Full Stats from San Diego Association of Realtors
2016 Q2 – The Details
Sales Volume:
After a relatively sluggish start, Q1 ended with a big bang in March. Q2 was no different than March with solid consistent demand all quarter long. While Q2 sales were up 40% over Q1, that is mostly due to a typical seasonal trend. However, I also believe this high percentage jump is in part due to a somewhat slow start to Q1.  While Q2 sales were virtually the same as last year (Q2 2015), inventory is down 8% from last year making it a tighter market for buyers to buy in. As a result, Days on Market is down 17% from last year!
Inventory:
Inventory has been dropping consistently for about 5 years now. There is a lack of overall housing availability whether buying or renting and this lack of inventory is what keeps stoking this market to stay on track. Q2 typically sees a rise in inventory with a peak near August, but this year there was a small decline after it peaked in April!  The end of Q2 posted a 15.8% drop in inventory over last year at the same time. I cannot stress enough how big of a factor this is in today's market. When you look at the "months supply" of inventory on the image/link above, that is basically the housing supply/demand curve, and it's down 17.9%.
Loan Rates:
Rates started Q2 at 3.71 after dropping .38 in Q1. Rates did a drop down and then come back up dance for the first 2 months before dropping precipitously at the end of the quarter. Many say the recent drop towards historical lows is due to the Brexit decision and worldwide economic concern.  Whatever the cause, it is an excellent time to buy and we are currently experiencing a refinance boom. Rates are currently matching historical lows from 3-4 years ago!  If you would like to inquire about refinancing your home, just email or call me.
Home loan rate charts:
Long Term Rate Chart: 1971 – 2016                                                                        Short Term Rate Chart: 2016 weekly
Home Values:
After a huge jump in median sold home prices in March, Q2 had high expectations to live up to. But with demand fueled by low interest rates and very low inventory to choose from, median & average sold prices continued to climb the first couple months of Q2 before leveling off in June. Our yearly peak has been July the last couple years and this year appears to be no different.  We ended the quarter about 5-6% above values at end of Q2 last year. While the market remains extremely tight, our year-over-year gains have been quite consistent the last 2-3 years. Of course on the other side of things is low affordability which is keeping prices from going higher faster.
What does the future hold? My predictions are below…
What's next?:
While it's not that hard to predict the short-term if you have the correct statistics at hand, mid & long-term economic trends are quite elusive and usually prove me wrong. As a real estate broker, I don't have the knowledge or time to follow macro-economics. As such, I don't make predictions past the short-term and do not advise you to make financial decisions based on my predictions.  That said….
Some of the big talking points here are going to be seasonal norms, extremely low inventory, historically low rates, worldwide economic influence, presidential election year, etc.  Our seasonal norm is for inventory to have continued to climb into Q3, but it didn't do that – I'm guessing inventory will remain relatively flat in Q3. Sales Volume will start dropping, but so will new listings.  Home Values will probably go up a bit and down a bit peaking mid-quarter. Although it is typical to see a dip in prices about October, with inventory so low and rates so low, that dip may be later or less pronounced.
Much of this could be effected by a change in rates- of course if rates remain where they are under 3.5%, affordability is better and people can spend more thus upward pressure on prices. There is still pent up demand with how low inventory has been, but that demand tapers as prices/rates rise. I'm expecting rates to stay relatively low in the short-term due to the financial uncertainty in Europe which is sending investors towards more conservative long-term equities in the US.  I'm expecting the american economy to do fairly well, mostly because it always does the 4th year of a president's term.
Thank you for reading – I appreciate your time as well as your comments. Here are a couple additional resources if you are thinking about buying, selling or just curious about your home's value:
And thank you for your referrals – they are the foundation of my business at over 90% the last 4 years.
Adam Pascu
Broker / Owner
73 Degrees Realty
858-761-1707
ps. feel free to check out my San Diego Green Homes site if you have a passion for living green/sustainably and contact me (cell: 858-761-1707) for a free consult regarding how to green your home.