2015 Q4 – Year-end Review
Q4 2015 Summary:
Sales Volume Down: Down 23% from Q3. Down 3.4% from Q4 2014

Inventory at Record Lows: Down 19% from Q3. Down 17% from Q4 2014
Loan Rates Up: The MND 30-year fixed rate went up about 0.20% & ended 2015 at 4.09%
Home Values Up: Average Median sales price about the same from Q3. Up ~7% from Q4 2014.
The Above image is a visual summary of my statistics reference from our local San Diego Association of Realtors.
Click here to View Full Stats from San Diego Association of Realtors
2015 Q4 – The Details
Sales Volume:
Q3 was a finicky market that followed a strong spring, but then tapered off heading into Q4. It is a typical seasonal norm for Q4 to have the lowest sales volume of the year as people are focused on the holidays, so the drop in sales volume from Q3 is expected. There was a small 3.4% drop in sales volume from Q4 of last year, but I don't feel that equates to a 3.4% drop in demand, but a drop in supply, given that inventory was down about 17% from Q4 of 2014.   It's possible sales volume would have been higher if there were more homes for sale, but Q4 did also see a steady rise in rates, which could have contributed a bit to a decrease in sales.
Inventory:
Inventory has been dropping consistently for almost 5 years now. It is this lack of supply, which has pushed home prices back up to the last (bubble) peak of 2005. It is plain to see from the image above that inventory ("homes for sale") as a whole has been extremely low this year. The typical seasonal norm is that inventory starts climbing slowly throughout the year until it peaks in the early fall. However, with very low inventory and a pronounced drop in new listings month over month in Q3 and Q4, the peak this year was mid-summer at the end of July.  We experienced a notable downtrend in inventory during Q3 and Q4. Thus, inventory is not only extremely low as a whole, but from a seasonal perspective, too, being 17% lower than Q4 of 2014.  The low inventory has dominated conversations around the real estate campfire this year – buyers and Realtors alike are hoping for more inventory next year, while sellers/homeowners reap the benefits.
With sales/demand good and inventory/supply low, you don't need an advanced economics degree to know that there is upward pressure on prices. The "Months Supply of Inventory" is the statistical representation of the supply demand curve and it is at it's lowest point in years having dropped 30% from last year!
Loan Rates:
Rates started Q4 at 3.89 after a fairly steady rate drop during Q3. Rates dropped a bit, but mostly stayed flat in October. November saw a quick little jump which steadily worked it's way up to the year's 2nd highest peak at year's end of 4.09%.
All in all, rates were fairly steady in 2015 with a total variance of about .6 total. The general trend was up with 2-3 peaks/troughs.  That said, rates have been dropping since the beginning of the year and it may be a good time to refinance if you have a reason for it (i.e. to get off an FHA loan with mortgage insurance, to get cash out), or are sitting on a mortgage at or above 4.375%.
Home loan rate charts: click the images to enlarge
Long Term Rate Chart: 1992 – 2015                                                                        Short Term Rate Chart: 2015 weekly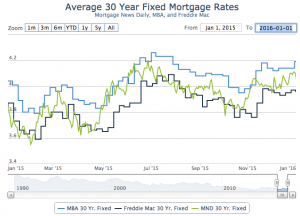 Home Values:
While values stayed relatively flat from Q3 to Q4 as a whole, the median & average sale prices have gone up about 7% and 5% respectively over Q4 of last year. I place more value on the median than the average, but neither is perfect.  That is a fairly level and healthy growth rate. Q4 is rarely a big time for equity gain, so to stay level after a strong spring/summer is a good sign for home values. As noted above, the supply/demand curve is still pointing towards more equity growth. What does the future hold? My predictions are below…
Foreclosure Trends:
This is the last time I will be posting foreclosure stats for now. With prices approaching the peaks seen in 2005, foreclosure & short-sale inventories are down to low levels and aren't a notable market factor anymore. You can view the full stats at my favorite foreclosure site:
San Diego Foreclosure Stats
California Foreclosure Stats
What's next?:
While it's not that hard to predict the short-term if you have the correct statistics at hand, mid & long-term economic trends are quite elusive and usually prove me wrong. As a real estate broker, I don't have the knowledge or time to follow macro-economics. As such, I don't make predictions past the short-term and do not advise you to make financial decisions based on my predictions.  That said….
Currently, San Diego inventory remains extremely low and rates moved over .25% downward since the first of the year, both of which place strong upward pressure on the market. My buyers that are looking right now are constantly coming up against multiple offers on any decently priced listings, and those listings are selling in less than a week. I'm seeing listings go pending that are listed a good 3-4% above the comps from Q4.
With the Fed finally raising the Fed Funds rate .25% in December for the first time in 7 years, many economists & lenders expected home loan rates to bump up, too.  But with a struggling international economy and investors moving towards safer long-term investments, we are currently seeing rates back under 4% again.  Assuming rates will remain relatively level the next 3 months, my best guess is that Q1 home values will get an early jump on the usual spring season and we will start to see an upward trend in pricing that will continue strongly through Q2. I'm predicting another 4-6% bump in home values the first half of 2016.  If this year is like last year, we'll have an early peak by end of summer and the fall will see a leveling of prices/activity.
Thank you for reading – I appreciate your time as well as your comments. Here are a couple additional resources if you are thinking about buying, selling or just curious about your home's value:
And thank you for your referrals – they are the foundation of my business at over 90% the last 3 years.
Adam Pascu
Broker / Owner
73 Degrees Realty
858-761-1707
ps. feel free to check out my San Diego Green Homes site if you have a passion for living green/sustainably and contact me (cell: 858-761-1707) for a free consult regarding how to green your home.